Feature Roundup: 5 Social Media Updates to Be Aware of This Fall
By: Sophie Maerowitz
October 16, 2019
Spring and summer of 2019 saw a flurry of notable changes to social media platforms, from interactive Instagram Stories Ads to hidden Twitter replies. Social marketers are well-served to experiment with new features as they launch. So, back by popular demand, we've rounded up the latest updates relevant to social marketers on Instagram and Twitter, below.
Instagram
Reminders for product launches in Shopping. As of Sept. 30, Instagram is testing a product launch reminder sticker and "product launch tag in feed" to keep shoppers aware of upcoming products. Shoppers can opt in to be notified once a product goes live. This feature will be useful in keeping marketers' products top-of-mind for consumers, as well as acting as a built-in follow-up for easily distracted feed scrollers. Plus, it will help social marketers make predictions and adjust strategy based on viewers' response.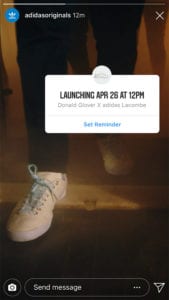 Shopping posts as ads. Similar to boosting an existing Facebook post, Instagram has been testing a feature that runs existing shopping posts as ads within Ads Manager. When viewers tap on the ad, they end up at the native product description page before moving to the seller's mobile e-commerce site. This allows marketers to put paid behind their top-selling products or top-viewed (non-paid) posts.
Twitter
Redesign for desktop. As Shake-Up contributor and speaker Carmen Collins, senior social media and talent brand manager at Cisco, once told us on Twitter, "If you use social media on your desktop, you work in social media."  Twitter's user-friendly desktop redesign comes as a big relief to social marketers who spend a lot of time mining their brands' feed and mentions. An expanded "Explore" section keeps marketers up to date on what's trending, a revamped navigation sidebar makes toggling between bookmarks, lists and your profile. Switching between accounts is easier, and those putting in long hours in front of their screen can now rest their weary eyes on a dark mode background.
Hide replies. Ever post an innocuous brand tweet, only to have a troll or hostile account take the conversation off the rails? A new feature allows Twitter users to hide irrelevant or abusive comments, and easily block offensive accounts as needed. According to Twitter, "27% of people who had their tweets hidden said they would reconsider how they interact with others in the future," suggesting that using the feature can help brands avoid future offensive responses to threads that they start.
Twitter for Mac. Similar to its desktop redesign, Twitter's Mac-friendly update, designed for Mac OS 10.15 Catalina, focuses on usability. Users will be able to multi-task with multiple windows, drag and drop visual assets, toggle between accounts and view their feed in Dark Mode. The streamlined design is more great news for social marketers strapped for time.
Follow Sophie: @SophieMaerowitz