7-Step Guide to LinkedIn's Native Video Feature
By: Sophie Maerowitz
July 24, 2017
LinkedIn is set to unroll its native video feature in coming months, so now's a good time to get familiar with LinkedIn video's upload process and capabilities.
Tatiana De Almeida, a PR manager on LinkedIn's corporate communications team, shared a 3-step guide to help communicators integrate LinkedIn video into their mobile workflow, once the feature is pushed out: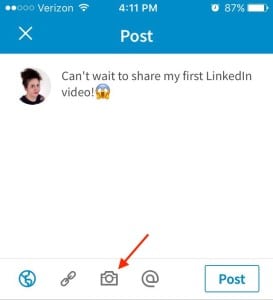 From the iOS or Android LinkedIn app, go to the share box and tap the video icon.
Select the video icon to start recording from the app, or upload a video from your camera roll. You can shoot footage horizontally or vertically, but don't switch orientations mid-shot. If you're shooting from a noisy locale, consider using headphones or an external mic.
Once you're ready to post, describe the video with a short caption and post it directly to your feed. The video will auto-play in followers' feeds.
De Almeida also provided 4 potential use cases for LinkedIn video:
Demonstrating a new product or piece of tech.
Capturing front-seat footage from a live conference or event.
Educating viewers with a quick tip or workflow hack.
Sharing a hot take on the latest news in your industry.