How Arby's Twitter Strategy Evolved From 'The Legend of Zelda'
By: Jerry Ascierto
February 2, 2017
For Arby's, Twitter isn't just a platform on which to advertise, it's a chance to delight.
The fast-food chain's evolving Twitter strategy isn't concerned with promoting its sandwich of the month or the latest addition to its menu. Instead, Arby's is focused on engaging in conversation, identifying niche areas and, most of all, having fun with its followers.
"The formula that's working for us now is less about selling or advertising our products on social," says Josh Martin, Arby's director of social media. "It's more about tapping into what our audience and fans and followers are passionate about and trying to make them smile."
That strategy is paying off: Last year, the company saw a 34% year-over-year increase in its Twitter followers and a 13% lift in overall brand conversation. Martin, who will speak about Twitter best practices at the Social Shake-Up May 22-24 in Atlanta, provided three tips that help Arby's remain a standout on the platform.
Niche Interest Areas
About 18 months ago, Arby's shifted its social content strategy away from the typical fast-food fare and toward niche areas. The brand found its voice in the process by playing off of pop culture with an inventive array of pictures, GIFs and videos that reference everything from gaming and anime to wrestling and comic books.
"If you look at our competitive space, a lot of the social content is very similar. We were pushing out posts that other brands were doing and the engagement wasn't great," says Martin. "So we challenged our team to come up with something different, and we started testing niche areas."
Arby's tested the strategy with a post based on Nintendo's "The Legend of Zelda" in September 2015. It was simple but effective—just three potato cakes positioned to look like the game's "Triforce"—and received more than 17,000 shares, 73,000 likes and 5,900 comments.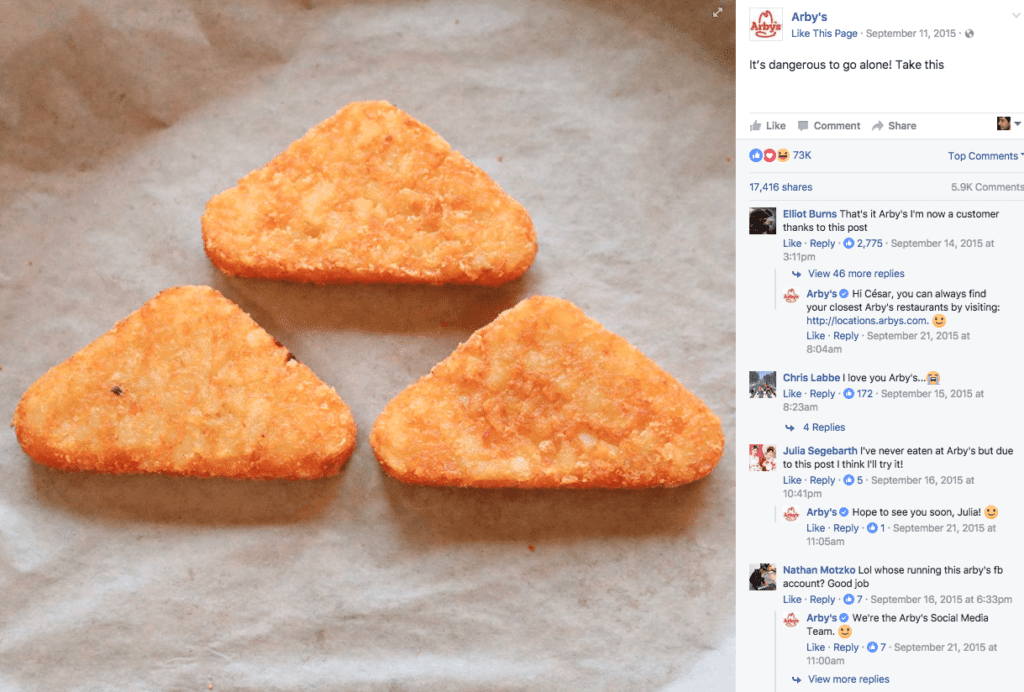 "People lost their minds, Martin says. "The reaction was tremendous."
As the strategy evolved, the posts became more elaborate—a short video of a "Transformers" character being assembled from mozzarella sticks, or a GIF of a cardboard ship from the anime "One Piece" sailing on a sea of curly fries. Many of the references are so obscure that most people wouldn't even understand them, and that's just the way Arby's wants it.
"The beauty of a lot of our content is, probably 70% of the people that follow our page don't get it," says Martin. "But the 30% that we're targeting absolutely love it."
Every month, Martin's team meets to look at upcoming releases in entertainment and gaming to strategize their next moves. The pop culture tweets have brought in a legion of dedicated fans that otherwise may not have been turned on to Arby's.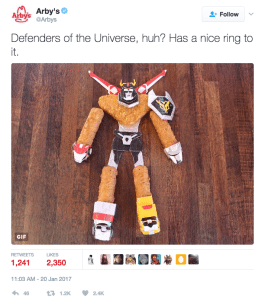 "Now, we're getting requests all the time from fans asking if we could do a different video game or movie," he says.
Let's Talk
For Arby's, Twitter isn't just a platform to display creative content, it's an opportunity to hear what its followers are saying. Many brands make the mistake of viewing Twitter as a "push" platform, but to Martin the content is another way to spur a two-way conversation.
"Twitter is still very much a one-on-one platform," Martin says. "We're having multiple conversations with our guests every day, responding to them in real time."
The social media team takes its followers' comments to heart, often alerting the brand's PR team to any potential trouble, or taking suggestions to its operations team on ways to make the chain better.
"We're getting insights into their experience, things we can correct in our restaurants based on their comments," Martin says. "Those conversations are invaluable to us."
---
Looking for a deep dive into all things social? Check out the full program and speaker roster for The Social Shake-Up, which will be held May 22-24, 2017, in Atlanta. Brand communicators from Coca-Cola, Dunkin' Donuts, the Atlanta Hawks, Arby's and many more will speak on a breadth of topics from content marketing to measurement to Snapchat strategy.
---
Don't Force It
Another common Twitter mistake brands make is trying to force itself into a conversation, riding the coattails of a trending hashtag in a bid for relevance. It's much better to be invited.
Arby's social media team will monitor big events looking for an opportunity to engage—but only where it makes sense. Case in point: When Pharrell Williams walked the red carpet at the 2014 Grammy Awards, a critical mass of Twitter users noted the resemblance between his hat and Arby's logo.
Martin was at home that Sunday night and in a textbook act of social listening, posted Arby's most successful tweet to date: "Hey @Pharrell, can we have our hat back?" The tweet earned more than 78,000 retweets, more than 61,000 likes and received a boost when Williams answered with "Y'all tryna start a roast beef?"
"That moment really put Arby's on the map in terms of social conversation and set us off to where we are now," says Martin. "It's one of those moments where the brand has given full trust to me and my team to respond to anything we deem necessary."
Follow Josh: @Jmart730
Follow Jerry: @Jascierto