A Shortlist of COVID-19 Era Tools for Social Marketers
By: Sophie Maerowitz
April 6, 2020
Working in quarantine poses unique challenges for marketers and communicators. What videoconference tools should you be using? Can you air a video press conference or statement from your CEO remotely? These questions and more were asked of sister brand PRNEWS' recent webinar panel on COVID-19 communications.
For answers, we scoured the web and polled the Shake-Up community for their favorite internal and external digital communications tools amid the crisis. (Zoom was the big winner, as you'll soon see.)
Zoom
If you can look past the company's fuzzy definition of end-to-end encryption, the ease of use of the videoconferencing app makes it a strong contender for internal team meetings and external communications (even this writer's 80-something grandparents have gotten comfortable with it). With larger groups, be sure to state and re-state the "mute if you're not talking" rule, and designate a moderator for the duration.
Everywhere Agency CEO Danica Kombol has high praise for the platform so far: "Zoom has never failed us once we made the transition." The agency is using Zoom for a (projected) 500-attendee virtual fundraiser for YWCA of Atlanta. "Zoom checked all the boxes when it came to our ability to stage a major event, show videos, feature multiple honorees and allow as many people to join as possible," Kombol said. She predicted the tool will come to be regarded as a "true savior" for marketers in quarantine.
FINN Partners' director of social media Justin Buchbinder suggests breaking up the monotony of video conferences with Zoom's playful custom backgrounds, some of them branded (e.g., Disney). Manu Muraro, founder of Instagram training group Your Social Team, has even created some branded backgrounds of her own for added levity (and for hiding "less-than-ideal" home office environments). Muraro, who uses Zoom for online live classes and client calls, also likes that Zoom allows for recording and sending out video sessions after the fact.
The Social Edge's director of operations Tom Garruto has hosted Zoom meetings of over 400 participants for community service organizations. Garruto praised the tool for its gentle learning curve, though "it took this big event to immerse myself and learn it inside and out." Garruto is now training others in his network to host their own major Zoom meetings. "What a change a month makes," he mused.
Webex
Communicators in regulated industries might consider Webex as a more secure Zoom alternative for internal communications and virtual events. The platform offers video conferencing, a training option (ideal for events), as well as the ability to host breakout rooms and white-boarding, says Cisco's senior social media and talent brand manager Carmen Collins. (Disclaimer: Collins' company owns Webex).
Cisco has also donated both money and technology to the COVID-19 relief effort, allowing for telemedicine, tele-education, tele-reunions and weddings, says Collins. Companies that choose Webex for meetings and events would be indirectly contributing to a good cause.
Vimeo
Video streaming service Vimeo has been a popular choice among communicators for thought leadership. The platform excels at storing and streaming high-quality pre-recorded videos, and can be posted to social media (depending on privacy settings). For example, Todd Simmons, CEO of Arkansas-based pet foot supplier Simmons Foods Inc., thanked employees via a Vimeo video posted to LinkedIn.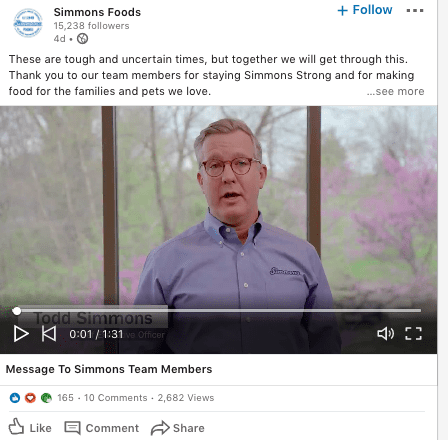 The platform offers a free option, as well as several paid tiers.
GoToMeeting
Like the other videoconferencing tools above, GoToMeeting has both paid and unpaid tiers, but— anecdotally, at least—has its share of bugs and mishaps. "GoToMeeting had serious challenges and on some days completely crashed" as quarantine measures went into effect, said Kombol. This could indicate the platform isn't an ideal choice for external-facing streams.
Virtual Events Platforms
Companies with heavy events schedules have started to pivot into virtual events, with tech giant Adobe taking its annual Summit on-demand with a sleek, Ted-style landing page. Sessions are hosted for free via a native video player. Of course, not every company can afford to forego attendee revenue, but with its sponsorship model and plethora of software offerings featured in each breakout session, Adobe has preserved the lead generation aspect of its conference.
Outside of hosting events via native video (or social media live streams), there are many enterprise-level video platforms out there, including GlobalMeet, which offers webinars with or without slides and other media, along with email integration. Using GlobalMeet, The Social Shake-Up's sister brand Events Marketer has launched a weekly on-demand visual chat around the transformation of the events industry.
Google Hangouts/Google Meet
If your company is a Google shop making heavy use of the company's enterprise storage and email client offerings, Google Hangouts or Google Meet could offer a relatively seamless transition to videoconferencing. The enterprise version of Google Meet has a 250-person limit. Garruto said he reluctantly made the switch from Hangouts to Zoom, but was happy with the decision once he learned the latter tool.
Project Management Platforms 
Not all internal comms can be handled via videoconference (in fact, your colleagues might suffer burnout as the result of a daily barrage of video calls). Kombol says her team has stayed connected via Slack—"the best way to keep a dialogue going and your email inbox free of clutter." Everywhere Agency also relies on Asana—"our organizational guru"—for project management. For lead generation, she recommends PipeDrive.
Connect with Justin, Danica, Carmen and Tom on LinkedIn.
Follow Manu on Instagram.
Follow Sophie: @SophieMaerowitz