Early Adopters: How 3 Brands Are Tapping Into TikTok
By: Sophie Maerowitz
August 1, 2019
Having accumulated 500 million global monthly users in just a year since launch, TikTok has proved irresistible to brands audacious enough to join the fray. The app's short-form video format, heralded as a Vine 2.0 of sorts, lends itself to humor, whimsy and lightning-fast visual storytelling: the perfect medium for savvy social marketers and content creators.
Of course, not every brand is suited to the platform—and advertising may not be the best play for its primarily Gen Z users, who are known to tune out promotional content. Plus, TikTok's current advertising offerings are pricey—requiring a $6,000 campaign minimum, with brand takeover ads at $50,000 per day, according to Digiday. But if advertising isn't the play, a more indirect route through influencer marketing may be more viable. Some brands are simply using the platform as a content distribution vehicle, entertaining a new audience with eye-catching short-form video. Others are capitalizing on the "challenges" popular with users on the platform, reeling in UGC.
Here are three brands to scope out as you ponder a TikTok strategy of your own.
San Diego Zoo
The San Diego Zoo has long been known for its kooky animal videos, and TikTok is the perfect fit for its existing stock of content. The brand makes use of puns, pop culture references, hashtags and the soundtracking feature inherited from TikTok's predecessor Musical.ly, which allows users to lip-synch to their favorite songs. The account leverages a mixture of hashtags, from single-use punchlines (#shellyeah) to more generic, widely searched phrases (#funnyanimals). The Zoo recently posted a Duet with Monterey Aquarium, a split-screen option wherein both accounts soundtrack concurrent video—a clever use of a feature intended for lip synch competitions. This cross-promotion entertained while boosting each account's profile to followers. "Entertain" is the key concept here: The Zoo isn't selling tickets, events or membership, rather simply letting viewers in on the action in a humorous and approachable way.
GUESS
The clothing brand became TikTok's first U.S. branded content partner in Sept. 2018, when it launched its #InMyDenim challenge, a call-to-action bolstered by TikTok fashion influencers with follower counts in the hundreds of thousands and millions. Influencers modeled before-and-after videos (the "after" shots in GUESS apparel), and 33 million users followed suit using the hashtag (although some simply co-opted the hashtag in order to rack up views). In a press release announcing the partnership, TikTok's director of brand partnerships called the brand "very tied into the TikTok audience," which jibes with the company's use of an existing trend on the platform, hashtag challenges, popular with fashion lovers in GUESS' target demographic.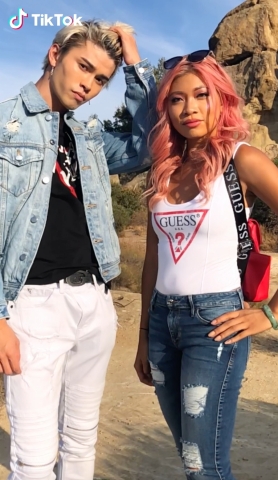 Chipotle
Chipotle has zeroed in on the weird and whimsical, for which the TikTok community has a seemingly endless appetite. From slapstick comedy to bizarre memes, absurdity and goofiness reign supreme on the platform. So, Chipotle, adopting the vernacular, asked users to dance along to Dr. Jean's wacky viral children's video for its #GuacDance challenge. The UGC effort, which netted 430 million fan videos according to Chipotle's CMO, was timed as a lead-up to National Avocado Day on July 31, and it likely paid off—the brand's VP of marketing told Digiday that a similar partnership earlier this year resulted in the company's biggest digital sales day on record.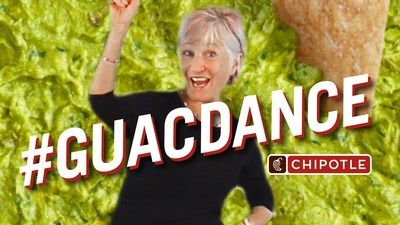 Follow Sophie: @SophieMaerowitz