Online Marketing Specialist
University of Virginia Health System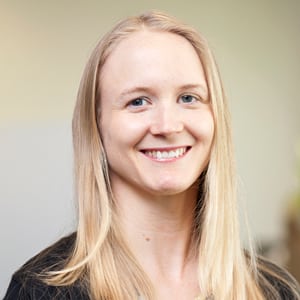 Megan Rowe is the only staff member focused solely on social media for the University of Virginia Health System, and as a one-woman show she has made a big impact.
With Rowe leading the way, UVA Health System's Facebook followers grew by more than 60% from July 2016 to June 2017. She also orchestrated an increase in Twitter followers, which grew by 30% from July 2016 to June 2017. Rowe is also very responsive, as she resolves 90% of social feedback within 24 hours.
In recent years, Rowe has had a number of successes, including arranging a same-day therapy dog visit after a patient remarked on a Twitter photo; utilizing Google translate to direct message in Arabic and converse with a man worried about his mother's cancer; suggesting proper providers for rare conditions; and persuading other people that they needed to get off the internet and see a physician. She has also assisted people with finding answers to questions on a number of topics, including billing, visiting, volunteering, applying, fundraising and even donating organs (specifically a liver).