Snap, Inc. Hit With Layoffs Amid Spectacles Debacle
By: Jerry Ascierto
October 25, 2017
Like Google Glass before it, Snapchat's Spectacles seem destined for the bargain bin, a featured item at an upcoming yard sale near you.
Snap, Inc. may have miscalculated when it rolled out Spectacles last November, with hundreds of thousands of unsold glasses now sitting in warehouses, according to a report yesterday by The Information.
The report comes fresh on the heels of another round of layoffs at the firm, with 18 people dismissed from its recruiting division last week, a month after CEO Evan Spiegel said in an internal email that the company would hire at a slower rate, and that its leaders would have to make "hard decisions" about their teams in 2018.
The latest Spectacles report contradicts recent rose-colored sentiments from CEO Evan Speigal, who said Spectacles sales of 150,000 had topped the company's expectations. While the company had high hopes for the hardware—renaming itself Snap, Inc. and calling itself a "camera company" when the product was rolled out—sales have been tailing off since the initial buzz. In its last two earnings reports, the company's "other revenue"—a category mostly composed of Spectacles sales—declined from $8.3 million in the first quarter to $5.4 million in the second.
The news underscores the difficulties Snap, Inc. faces in being a public company doing battle with Facebook. Its advertising revenue continues to underwhelm Wall Street, as its stock price continues to trade below IPO price. What's more, a recent study suggests that influencers are starting to abandon the platform for the greener pastures of Instagram.
What Teens Want
Yet Snapchat's long-term prospects remain strong, at least demographically—its growing attraction to younger audiences can't be overstated. Snapchat remains far and away the social media platform of choice for teenagers, according to this week's "Taking Stock With Teens" report from Piper Jaffray, which found that 47% of teens prefer it over Twitter, Facebook and Instagram, up from just 11% in 2015. The other three platforms all saw declines in that span.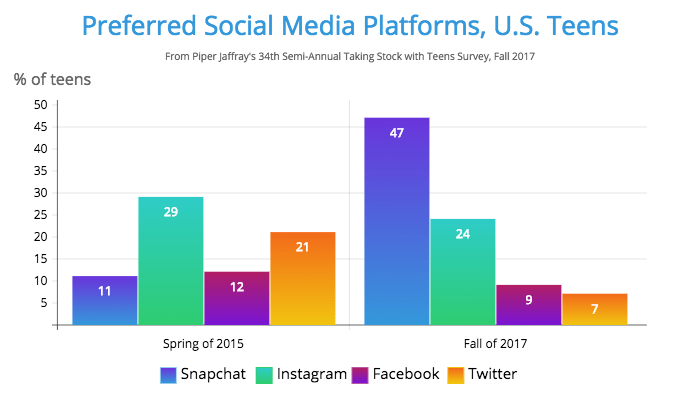 For brand communicators looking to reach Gen Z, Snapchat remains a great place to start. The company has taken recent steps to become more advertiser-friendly, rolling out a new marketing feature called Context Cards two weeks ago, allowing for greater brand discovery and engagement.  The feature gives Snapchat users a way to get instant information about a business featured in a snap: If somebody snaps a picture of their food at a restaurant, users can get instant access to reviews and the ability to make reservations on the platform, for instance.
So while Snap, Inc. continues to feel some growing pains, the question is, will its popularity among a key demographic—and the growth that popularity suggests—outweigh its near-term financial stumbles?
Stay tuned.
Follow Jerry: @Jascierto