Snapchat and Toys 'R' Us Signal Renewed Interest in Augmented Reality for Brands
By: Sophie Maerowitz
October 3, 2017
While some communicators may argue augmented reality's relevance to brands has faded along with Pokémon GO fervor, recent developments at Snap Inc. and Toys 'R' Us indicate otherwise. Both companies have unrolled augmented reality (AR) offerings that encourage audience interaction with their products and drive a surprise-and-delight factor with users.
Snapchat, with its 3-D Bitmoji feature, allows smartphone users to overlay and manipulate 3-D renderings of their Bitmojis (personal avatars) as they capture a surrounding area.
Snapchat's parent company Snap Inc. is also offering advertisers the option to use AR to render products and brand messaging in a user's native environment, along with access to expanded engagement metrics. These 3-D animations, which Snapchat calls World Lenses, can target users by age, gender or interest, and may also include external links or offers when users swipe up. Previously, brands could shell out for user-facing AR lenses and simple animations not in 3-D; with the new feature brands can purchase 3-D outward-facing camera overlays and access accompanying metrics.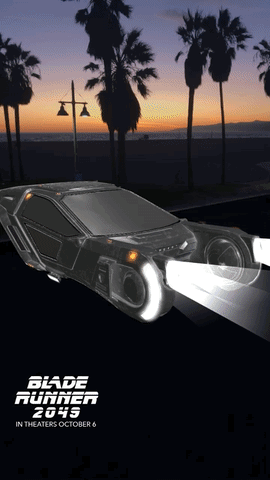 Toys 'R' Us, with its new Play Chaser app, will be offering in-store AR renderings for the kiddies to interact with using their parents' smart devices, including a virtual basketball game and a 3-D likeness of brand mascot Geoffrey the Giraffe to welcome shoppers at store entrances.
The app launch is a PR win for the company, which filed for chapter 11 bankruptcy Sept. 18. The timing of the app release shifts the narrative from the company's fight to stay relevant amid e-commerce dominance to a forward-looking reorganization grounded in emerging technology and experiential marketing.
Nicole Hayes, senior manager of public relations at Toys 'R' Us, told The Social Shake-Up that the brand is "moving beyond just a transactional relationship with customers."
"Customers will see a much larger focus on play at Toys 'R' Us, bringing to life our in-store experience so that families won't just shop with us—they will play with us," Hayes added.
While not all brands have the resources to develop their own AR platform as Toys 'R' Us has done or invest in steep Snap Inc. advertising budgets, this type of AR, especially in the 3-D Bitmoji example, could be leveraged as user-generated content. And even if your brand is not considering AR as a marketing strategy, the technology itself could be a way to start a company-wide conversation about making messaging and content more interactive—thereby envisioning your own brand channels as spaces for audiences to play in.
Follow Sophie: @SophieMaerowitz