Twitter's in the Black But Flat, While Snap's in the Red But Surging
By: Jerry Ascierto
February 8, 2018
Twitter delivered a profitable quarter for the first time in its history, beating Wall Street's expectations with fourth-quarter net income of $91 million.
The news comes fresh on the heels of Snapchat parent Snap Inc.'s results, offering a tale of two platforms. While Twitter's bottom line is finally in the black, its user growth is stagnant. The platform averaged 330 million monthly active users in the fourth quarter, unchanged from the third quarter.
In contrast, Snapchat is still firmly in the red—while revenues were above expectations, it posted a net loss of $350 million in the fourth quarter. Yet, the volume of its daily active users rose from 178 million in the third quarter to 187 million to end the year.
So, the more mature platform, while profitable, isn't growing and isn't as popular with teens as it once was. Meanwhile, Snapchat still isn't making money—but its user base is surging, particularly with Gen Z.
Snapchat was the only major platform to grow in popularity with teens over the past two years, according to Piper Jaffray's semiannual "Taking Stock With Teens" survey. In spring of 2015, only 11% of teens tabbed Snapchat as their platform of choice, but that number leaped to 47% last fall. Meanwhile, Twitter's popularity with teens fell from 21% in 2015 to just 7% in 2017.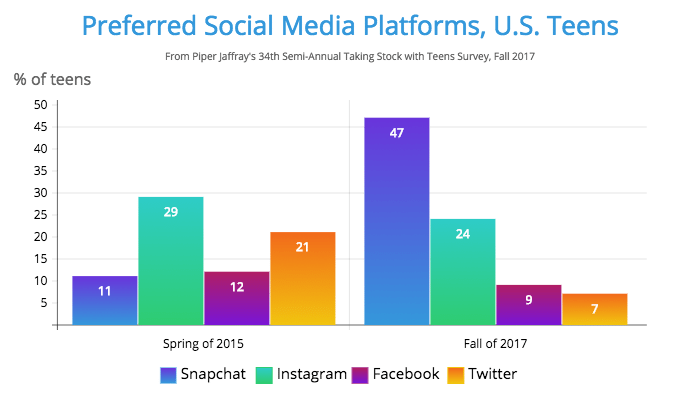 What's ironic is, each platform wants to attract the demographic the other platform has already captured.
Snapchat's redesign—which is being tested (and largely panned) in the U.K., England and Canada—aims to make the platform user-friendly to mature audiences in a bid to attract more advertisers.
"We believe that the redesign has also made our application simpler and easier to use, especially for older users," CEO Evan Spiegel wrote in a letter to investors Tuesday. "Compared to the old design, core metrics around content consumption and time spent in the redesigned application are disproportionately higher for users over the age of 35, which bodes well for increasing engagement among older users as we continue to grow our business."
Meanwhile, Twitter's advertising sales are trending up even as it struggles to bring more users into the fold, particularly in its home country. Even as its overall user base remained flat, the number of active U.S. users declined from 69 million to 68 million in the fourth quarter.
Twitter said its lack of new users was partly the result of changes to Safari's third-party app integration, as well as its efforts to delete "spam, malicious automation and fake accounts." The platform said it lost 1 million U.S. monthly users due to that unspecified change in the Safari brower alone.
Still, taken as a whole, this past week's parade of earnings from the major platforms has been a plus, showcasing the industry's ongoing maturation: Twitter turned a profit, Snapchat beat expectations and Facebook's net income grew 20% year-over-year, to more than $4.2 billion.
A spokesperson from Twitter was unavailable for comment.
Follow Jerry: @Jascierto