How @WeAreCisco Broke Up with Snapchat but Remained Friends
By: Carmen Collins, Senior Social Media & Talent Brand Lead, Cisco HR
January 8, 2019
"Know when to hold 'em/Know when to fold 'em." –Kenny Rogers, "The Gambler"
Kenny Rogers' iconic song, The Gambler, is embedded in pop culture as a metaphor for knowing when to take a risk, and when you should walk away and live to play another day. It's also a perfect example in song form of the question that the @WeAreCisco Talent Brand team had to ask ourselves recently about our Snapchat program. To quote another song, "Should we stay or should we go?"
?Know when to hold 'em
We took a gamble – a calculated one based on metrics, data and business outcomes (as any good social program should be) – and set up a pilot program in which we would give our Snap username and password to employee ambassadors to post about life at Cisco with the goal of attracting new Cisconians to the company. We built the structure, implemented the training and set the appropriate "boundaries," if you will, and learned an important lesson on trust.
About four weeks into our pilot, we were told it wasn't really a pilot program anymore. The data were great, the response was surprising–even with our well-planned-out hypothesis–and the press started rolling in.
We were told over and over again by the industry that we "couldn't" – there are no metrics (we had metrics); there was no business case (we actually hired from exposure to the account); we were told we "shouldn't"–Snapchat didn't make sense for B2B brands, talent brands, etc. (we generated upwards of 70 percent completion rates), so it seems like we should've!
Two years in, however, Snapchat decided to do a redesign. That changed everything for us. Our ambassadors stopped wanting to use the platform, because they didn't like the redesign. Our audience demographics on the platform changed, skewing much younger.
We began talking about the viability of the platform to meet our business goals. But we don't give up easily. We decided to play one last hand before walking away from the table.
?Know when to fold 'em
This past June, we launched our "Summer of Interns" on Snapchat. All interns, all the time. (And here you thought giving regular employees the username and password sounded insane, we gave them to the interns.) We saw a hug uptick in our metrics.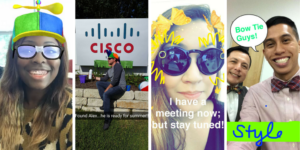 We were back, baby! For the summer at least. The interns represented the target demographic, they were users of the Snapchat platform, they were super enthusiastic to be trusted as ambassadors and we had two months of renewed success.
While not reaching our metrics levels pre-Snapchat redesign, our daily views tripled, our completion rates spiked and we drove double our monthly average number of clicks to the Careers site via the "swipe up" functionality.
?Know when to walk away
August rolled around. Our interns went back to school, taking their ambassadorship along with them. Could we talk to the same audience with the same results?
That's when we decided that there were platforms, like Instagram Stories, that were showing us where our Snapchat audience had migrated. We saw better opportunities in vertical video and live video.
We cashed in our chips and left the table on a high note. The program won us several awards and industry accolades and was enjoyed by ambassadors and talent brand alike, but we knew the metrics and outcomes led us away from the platform.
Now, let me be clear. I'm not sounding the death knell for Snapchat. This is not the "Snapchat-is-Dead" blog post. This post is about making the right decisions for your business and brand.
?Know when to run
"Is Snapchat dead?" is the wrong question." Here are the right ones:
Who is your audience?
Where do they engage with your brand on social media?
How can you provide value to them?
What are your business goals?
When our team asked ourselves these questions, we knew it was time to run. Not away from Snapchat, but towards other opportunities. These aren't just the right questions to ask about Snapchat. These are the questions you should ask about any platform. Is Facebook still working for you? What about Twitter? I saw a story about one brand that abandoned all other platforms EXCEPT for Twitter. Make the decision based on goals and outcomes.
There might come a time where the @WeAreCisco Snapchat account comes out of retirement, if it makes good business sense. However, for now, you can find us creating the new @WeAreCisco style on Instagram Stories, IGTV, and live videos from our employees. Who knows what's next? We'll find it by answering those same questions again and again.
Carmen Collins is the senior social media & talent brand lead at Cisco HR and advisory board member of the 2019 Social Shake-Up. Want to learn more from Carmen? Meet her and more than 70 other social media marketers and digital strategists from the most innovative brands and influencers speaking at one of the largest industry conferences in the U.S., May 6-8 in Atlanta. Register by Jan. 9 and save $900 on your pass!
Follow Carmen: @CShirkeyCollins
Follow WeAreCisco: @WeAreCisco