ACLU's Rapid Video Response to Trump's #Transban Tweet and 'Anti-LGBT Day'
By: Sophie Maerowitz
August 2, 2017
On July 26, President Trump announced a ban on transgender military personnel via Twitter, raising alarms within the Pentagon and sparking outrage among human rights advocates. The same day, the Justice Department filed a brief suggesting LGBT people are not protected from discrimination under Title VII of the Civil Rights Act.
The ACLU responded immediately to Trump's tweets and the DOJ brief online, naming July 26 "Anti-LGBT Day" in a press statement and coining the hashtag #notaburden in solidarity with transgender service members.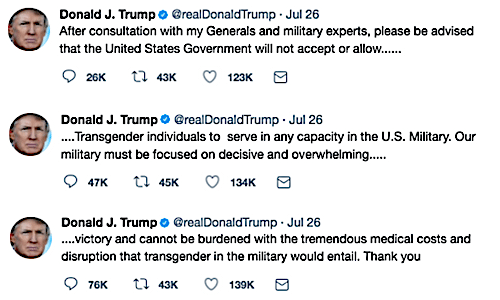 In the hours following Trump's and DOJ's announcements, ACLU quickly established itself as the dominant counterpoint in the media narrative, as well as deploying successful calls to action from organizing rallies to soliciting followers' questions and concerns, which were later addressed by ACLU lawyers in a live stream that garnered thousands of views and shares.
To deploy that volume of content, ACLU multimedia manager Molly Kaplan said ACLU made use of "all of the content assets we had already, but pushing them all at once."
On July 27, Kaplan and ACLU's social media manager Diana Scholl enlisted ACLU LGBT Project staff attorneys Josh Block and Chase Strangio to answer audience questions and speak to the legality of the potential ban and DOJ brief in ACLU's live studio, where the organization shoots media interviews and live streams, according to Kaplan.
After shooting an video op-ed for Mic.com with Strangio, Kaplan repurposed soundbites for an animated video posted to all of ACLU's social channels, "taking the transcript of the interview, editing it down and sending it to our animator who worked all night—despite having a [non-ACLU] full-time job to return to the next day." 
We spoke to @chasestrangio, an @ACLU lawyer who defended @xychelsea, about the truths that Trump's trans military ban overlooks pic.twitter.com/IMCv7j9Unc

— Mic (@mic) July 27, 2017
With media requests rolling in, Block and Strangio were still "available and game" to respond to viewers' concerns and questions via a Telescope live stream, said Kaplan, which fed ACLU's Periscope and Facebook Live broadcasts. Making use of all available staff, Kaplan worked the camera while an intern handled boom mics during the shoot. Block and Strangio moderated the Q&A.
The ACLU's vast, viral content output and audience mobilization in the 24 hours following Trump's inflammatory tweets is a testament to the power of video in messaging, storytelling and audience education.
Internally, the campaign's success hinged on the open line of communication between legal, media relations and social media staff—a challenge to maintain in a nationwide brand—and was strengthened by keeping every employee and audience member engaged around the #notaburden message, from communicators to staff attorneys, interns to protesters and online supporters.
Follow Sophie: @SophieMaerowitz