How Arizona's Office of Tourism Brought Sunshine to Social Media
By: Seth Arenstein
December 5, 2019
It's early December and some houses already have snow outside their door. Does that make you feel blue? Tired, even? Good. That's part of the reasoning behind Arizona Office of Tourism's (AOT) social media effort to associate the state with warm weather. The Office's goal, of course, is to encourage people to visit the country's sunniest spot.
Arizona bases its claim as the country's sunshine capital on meteorological fact. It averages 313 days of sun yearly. Still, Florida is known as The Sunshine State, so AOT has work to do to break through. And then there's competition from myriad warm destinations outside U.S. borders.
Acts of Sunshine
Previously, to raise awareness of its sunny surplus, AOT deployed traditional paid media. It also had a modest campaign called "Random Acts of Sunshine," where it surprised people at work, for example, with small, cheery prizes. Arizona representatives would come to an office in Chicago or NY and give out gifts like heated gloves, electric blankets and hot chocolate–in other words, guerrilla marketing.
In winter 2017, Phoenix-based PR agency Nomadic approached AOT and urged it to expand these in-market activations to social media. The idea was to bring random acts of sunshine to people and their social networks.
Nomadic's concept centered on "winter fatigue," a real phenomenon. Winter's shorter days result in the brain producing more melatonin, which leads to people feeling more tired than normal. And where do many people go to express themselves when they're down? Online.
As Nomadic's Tim Washburn, managing partner and executive creative director, figured, with the state's surplus of Sun, "We have sunshine to share and so sunshine to spare."
The Hurdles
How do you bring Arizona's sunshine to social media in practice? Nomadic proposed listening to social conversations. Those suffering from a bit of winter fatigue often complain on social about cold weather.
The agency also suggested searching for photos on social, including peoples' pets looking forlorn in cold weather.
When they found pictures of pets in the snow, AOT photoshopped the images onto sunny backgrounds, sending them back to pets' owners.
Perhaps that led people to engage with AOT, exclaiming how great it was to see their dog or cat in the sunshine. In those cases, AOT continued the conversation. Sometimes conversations carried on for awhile, at which point AOT reps posted that they would send the social user's lucky pooch a doggie sweater (with an Arizona logo on it, of course).
A Personal Touch
A key to the effort was making sure AOT crafted "personal responses that would result in social conversations," said Scott Dunn, AOT's senior director of content and communications. An automated-sounding response was verboten.
Much time was spent thinking about and creating just the right dialogue for social conversations. AOT's responses had to be witty, compelling and most of all upbeat, he said.
The thinking was similar with real-world gifts. The point was not to "just give out gifts, but to make each gift super personal…and emotion-driven," Washburn said. Such personal interactions would initiate word-of-mouth marketing, AOT betted.
If a conversation grew involved, the prizes became more substantial. A snow-bound photographer was conversing with an Arizona rep on social and mentioned he'd love a trip to the Grand Canyon State. AOT answered, "OK, take a photo and get 200 re-tweets in 24 hours and we'll give you a trip." The photographer amassed nearly 900.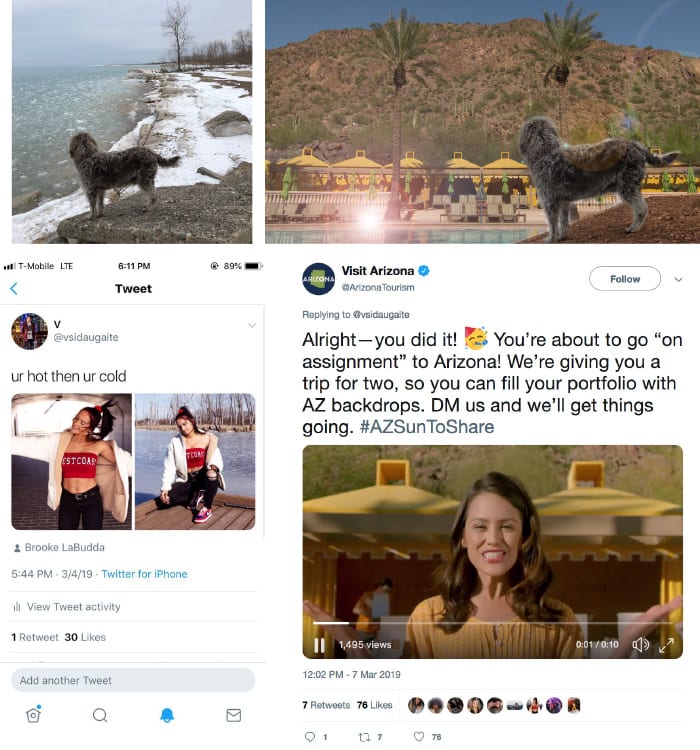 Execution
For five consecutive days, during business hours, a large group gathered in a Phoenix conference room to target winter-weary social users in NY and Chicago.
To replicate the feel of a conversation, AOT and Nomadic decided they needed a large group in the room  to "react quickly," as you would in a conversation, Washburn said. If a key person absolutely could not be in the room, they had to be on call for the duration. "In a situation like this, you're sunk if you need to wait three hours for someone to approve" a prize, for example, Washburn said.
As such, in addition to reps from AOT, the room was filled with social listeners, creatives (writers and designers), project managers and fulfillment personnel, who were working on delivering prizes, but also negotiating to find additional prizes.
The days began with social listeners using tools such as SproutSocial and Keyhole, seeking weather-related conversations in Chicago and NY. AOT and Nomadic spent considerable time on advance scouting, researching where and when such social users were likely to be posting about the winter blues. The goal was to engage in 90 conversations daily.
To publicize the social "Sunshine to Share" campaign, AOT used social and traditional tactics.
Results
The 2018 winter campaign was highly successful, according to Dunn, garnering some 5,000 consumer engagements and nearly 10 million impressions. One of the most important metrics for AOT, Dunn said, was sentiment. "Just five percent of the conversations were negative," he said.
Lessons Learned
1. Avoid pushing yourself into a social conversation: AOT, Dunn said, went into the campaign with a mantra: "Are we talking to someone or advertising at them?" A corollary: "Are we joining or starting a conversation, or being clever for its own sake?" The team learned it had to avoid "pushing" into social conversations. The best conversations didn't feel forced, Dunn said. "We punted a few times on conversations" that didn't feel right.
2. Silence is golden: Following from the above lesson, sometimes the team found "it's better to say nothing" than to "respond or respond in too snarky a manner," Dunn said. When a response felt too snarky it was dropped.
3. Spontaneity: Again, following from lesson one and two's admonition against forcing the conversation, while the team had a slew of responses prepared ahead of time, some of the best interactions in terms of conversations and prizes "happened naturally, on the fly," Washburn said.
4. Preparation: You don't just get online and start conversing. "There's a lot of pre-production" involved as well as the copious research completed in advance. For example, in addition to having pre-written responses ready to be adapted, the team also had a few video responses on hand that could be delivered immediately. Having a workflow set up to accept posts and create responses was key.
5. Mid-course corrections: Even with a large group of people in the room in Phoenix, the team's goal of engaging in 90 conversations daily proved too ambitious. In the end, the average was closer to 75.
6. Prizes: Awarding prizes sometimes involves legal issues. Handle those in advance. It's also important to have a variety of prizes to give away and that you can do so quickly.
Seth Arenstein is editor of PRNEWS. Follow him at: @skarenstein
NOTE: A version of this content appeared originally in PRNEWS.  For subscription info, please visit: http://www.prnewsonline.com/about/info