5 Ways to Enhance Your Brand's Visual Identity on Instagram
By: Sophie Maerowitz
April 25, 2018
Does your brand's Instagram channel stand out among the other 25 million business profiles on the platform? If not, it could be because your feed and profile don't embrace a strong enough visual identity.
Erica Campbell Byrum, assistant vice president of social media at Apartments.com, says Instagram visual themes must consistently play up the mood that your brand intends to evoke.
"Focus on words that describe your brand," Byrum advises. "Anything you're posting must embody those words."
Below are five more steps communicators should take to strengthen their visual identity on Instagram. 
Choose a color palette. Byrum recommends picking three to four colors and sticking to them in your Instagram posts. These should tie back to your visual theme and, "once established, it's important to keep to that theme," she says.
Choose a grid layout. As you plan your brand's feed for the coming weeks or months, consider using a grid layout that offers a macro-level look at your content when users visit your profile. These can be simple (traditional squares, vertical lines) or more complex (a mosaic "puzzle" or a checkerboard of tiles alternating quotes and images).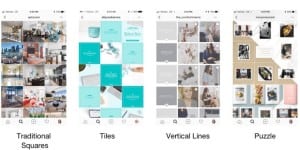 Map out your Instagram feed and Instagram Stories separately. When putting together an Instagram game plan, consider how you will distinguish your brand's permanent feed from its ephemeral posts.
"Keep your feed pretty and have more fun with Instagram Stories," Byrum says. Polished photographs should abound in an Instagram feed. Byrum's team is more playful with Stories, having successfully executed a scavenger hunt for a recent campaign that shifted stickers on each image to get users tapping through to the finish.
Brand your Highlights cover images. Instagram's recently added Highlights feature allows users to save groups of Stories images right on their profile. Adding a cover featuring your brand's thematic color scheme and/or text helps to tie Stories back to brand identity.
Repurpose content from photoshoots. During a photoshoot, think about your long-term Instagram strategy as well as your immediate content needs.
"Think about stocking up and using the same images later," says Byrum. Using Photoshop or a similar program, communicators or designers can make minor changes to the original image and reuse it. Most users won't notice the duplicate, especially if the image is reposted months later, says Byrum.
Follow Erica: @ericacampbell
Follow Sophie: @SophieMaerowitz