A Human-Powered Campaign for Climate Action Technology
By: Hill+Knowlton Strategies
August 5, 2019
Editor's note: In June 2019, global marketing and PR agency Hill + Knowlton Strategies (H+K) won a Grand Prix at the Cannes Lions International Festival of Creativity for a campaign for client Doconomy, a mobile bank with a climate-oriented mission. In addition to the Grand Prix, the campaign won two other Cannes awards and was shortlisted nine times across the Creative Data, Creative Strategy and Innovation categories.
So, how did they do it? Find out with a look behind the scenes at H+K's Cannes-winning campaign, below.
We are in the middle of a global climate crisis, fueled in part by overconsumption and misplaced ambitions for better quality of life. Last year, the IPCC reported that staying at or below 1.5°C warming would require slashing global greenhouse gas emissions 45 percent below 2010 levels by 2030. Yet, in the modern era, it seems that combining our seemingly unending thirst for consumption with a sustainable future is just not a valid proposal. Or is it?
One year ago, we got a call from Mathias Wikström at RBK Communication. We had previously worked together on the Åland Index, used by The Bank of Åland to connect individual card transactions with a monthly CO2-impact report. They had taken the concept a step further by founding Doconomy, a mobile banking service for everyday climate action. Spending and savings are measured by their impact on the planet, whether negative or positive. Users are able to mitigate climate impacts of their purchases by investing in fossil-free sustainable funds or UN-certified carbon offset projects.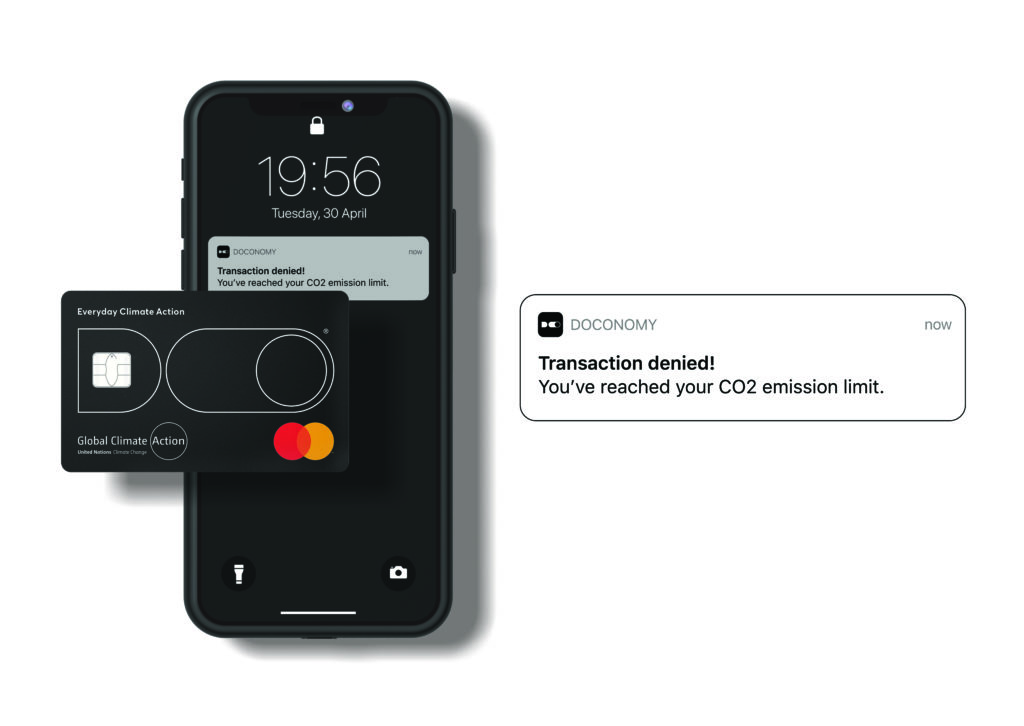 The new initiative was groundbreaking, and a story we felt had to be told. However, attention spans are shrinking. How do you tell a short and compelling story about a very complex problem?
We had a simple philosophy for the Doconomy campaign: Present the problem, instill hope and offer a solution. That Doconomy is a great concept, few can argue with. But where many climate change messages focus on future consequences, history shows that such forward-looking messaging may in fact be unproductive in swaying those who already resist the idea. So, we were very particular about the way we framed it.
Our primary goals were to inform, raise awareness and shape public understanding about climate change, while shifting consumer behavior. Although our campaign successfully leveraged a combination of traditional and new media—reaching millions and earning coverage in Forbes, FT and on national television—we also knew we had to take it a step further to truly inspire change.
To get the message out to those not already aware of the issue, we would need to actively bring the discussion to the people, sparking conversations and building a community through word-of-mouth. At the same time, we encouraged concerned members of the public to network, connect and visibly mobilize consumers to put pressure on key decision makers. That was the start of the DO Talks, a series of meetings rallying Doconomy members, partners and other interested parties around climate action. We created a strong forum where likeminded climate advocates and their adversaries could meet and discuss issues face to face.
While technology is amazing at spreading information, it has the side effect of making us passive spectators instead of participants. With Doconomy, we encouraged human interaction, sparking new ideas and conversations. Who would take a company's mission at face value from a single Facebook post? No one. But listening to real people offering a real solution, presenting impacts in real time, would at least have a chance. People who normally wouldn't be excited by social media or online articles got to hear a climate change solution firsthand from fellow humans. And that sparked something.
The world is experiencing a backlash: Society is becoming more cautious about the vast power technology has over our lives. Consumers are demanding that we take responsibility for the impact we make as companies. The success of Doconomy and DO Talks is a testament to the fact that when technology is combined with human interaction, it can be truly celebrated as a force for good.
Follow H+K: @HKStrategies