Why iMessage Is Key for Dunkin' Donuts in the Era of Ad Blocking
By: Melanie Cohn, Dunkin' Brands
March 15, 2017
How many times have you received a text message you didn't look at? The answer is most likely "almost never."
Text messages receive a 98% open rate and mobile messaging is the No. 1 most frequently used feature on our phones, according to Snaps, which powers chatbots, iMessage apps and emoji keyboards for clients such as myself. When you think about your own mobile behavior, this trend isn't very surprising. However, this unlocks a world of creative opportunity for brands.
In a time when ad blocking is the new normal, marketers must embrace choice-based ad offerings in the quest for true attention. Luckily, there's a ripe opportunity to reach the nearly 1 billion iPhone users out there with something they'll actually appreciate—in iMessage.
Now that messaging apps are starting to outpace social platforms in terms of monthly active users, it's clear there's been a shift from sharing personal updates with a large group, such as through Facebook, to more private, one-to-one messaging. There's no denying this is where the attention is, and Emarketer projects more than one-quarter of the world's population will be using mobile messaging apps by 2019.
With this, Apple has recently elevated iMessage functionality to compete with messenger giants like Facebook, WeChat, Kik, Snapchat and WhatsApp for share of this massive time spent. These new iMessage features for brands are enticing, and for consumers, they're just plain fun.
At Dunkin', we've embraced the philosophy of choice-based media versus interruptive, unwanted experiences. The new brand opportunities within iMessage allow us to provide exactly that. We're able to develop rich tools our fans actually want instead of unexpected ads they do everything in their power to avoid.
Here are three ways your brand can embrace iMessage this year.
Create Stickers
The best part of iMessage is their new sticker store, where users can download sticker packs to use in their texts. The difference between stickers and emojis however, is what makes it even more intriguing. With stickers, you can send them like a normal photo—however, you can also physically stick these images onto photos and text.
Nintendo does a great job of this for Super Mario by providing props such as hats and mustaches that users can add onto photos. At Dunkin', we've added props of our own, such as a beanie, sunglasses, donut goggles and even a birthday hat.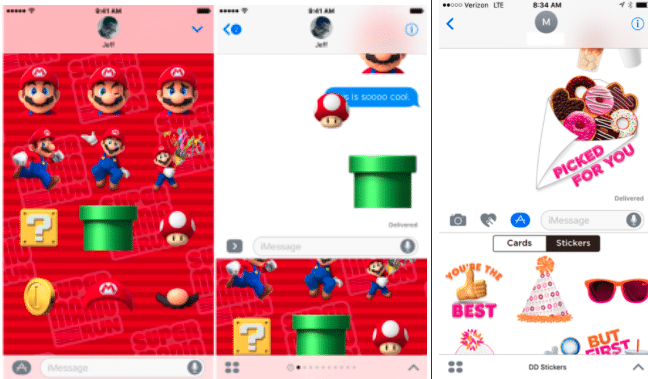 Build Experiences
Within your sticker pack, you can develop even richer experiences that increase time spent. We did this around Valentine's Day, adding a new feature to our pack that allowed fans to send custom greeting cards to their loved ones. Fans chose a card background, or uploaded a photo from their camera roll or via selfie mode, then decorated it with their favorite stickers. After these easy steps, they could send it via a personalized text to their friends. Recipients who also have the sticker pack were able to 'tap to respond' and build off the card to send it back.
We saw thousands of cards go out in a short burst of time showing that people want these types of tools. These are deeply engaging experiences where fans are spending anywhere from 30 seconds to several minutes with your brand, building something of their own. A static banner ad can't beat that type of value exchange.
---
Learn more from Melanie Cohn at the The Social Shake-Up, which will be held May 22-24, 2017 in Atlanta. Brand communicators from Coca-Cola, Dunkin' Donuts, the Atlanta Hawks, Arby's and many more will speak on a breadth of topics from content marketing to measurement to Snapchat strategy.
---
Promote via Apple Search Ads
Apple recently unveiled Apple Search Ads, which allow you to bid on keywords, similar to Google AdWords, but instead, these place ads at the top of App Store searches. This is a great way to drive downloads of your sticker packs and experiences within them. Ad Week recently reported that Apple Search Ads are generating app install conversion rates of over 50%, putting the cost per average install at $1. That's extremely efficient when compared to other channels.
With ad blocking on the rise and consumer attention being split among so many platforms, iMessage gives brands an opportunity to stand out. Now's the time to provide a fun and truly useful tool for your fans that lets them do the advertising for you.
Melanie Cohn is the social media manager for Dunkin' Brands. She oversees Dunkin' Donuts U.S. paid social media, social content development, social programming for major partnerships, community management and influencer relationships. 
Connect with Melanie: @SocialMel