How Journalists are Using Social in 2019
By: Nicole Schuman
July 10, 2019
Muck Rack, a journalist database, media monitoring and coverage reporting platform, has released its 2019 State of Journalism study, highlighting how journalists use social media. The study found that 47 percent of journalists believe "the way most companies share information with the media is outdated."
Here's how reporters use social media, according to the report, and how that connects to reporting, research and engagement. 
How Journalists Use Social Media
Don't waste any time looking for journalists on Facebook. Eighty-three percent of those surveyed said Twitter is their "most valuable" network, up from 70 percent last year. LinkedIn ranked third, but is growing—up 26 percent from 5 last year—so remember to keep that profile in shape, too. 
According to the report, 93 percent of digital communicators follow journalists on social media.  
The State of Journalism survey also serves as a reminder to make sure your company's social channels are in tip-top shape in order to bump up media coverage. When the journalists surveyed are reporting or receiving pitches from a company, they will consult the organization's social media channels 90 percent of the time. Remember to routinely audit social media platforms and update information and branding where need be. If your company has a brand newsroom, link to it on social media bios so journalists can easily access the latest information and contacts. 
Meanwhile, 71 percent of journalists surveyed said that they track how many times their stories are shared on social media. They also want to know people are reading their work! So make it easier to create engagement for journalists by reposting articles and tagging their handles when they show you some love.
The Best Way to Pitch Journalists
Journalists overwhelming do not like receiving pitches via DM or on other social channels. Tell your peers in PR to stick to email in their outreach efforts.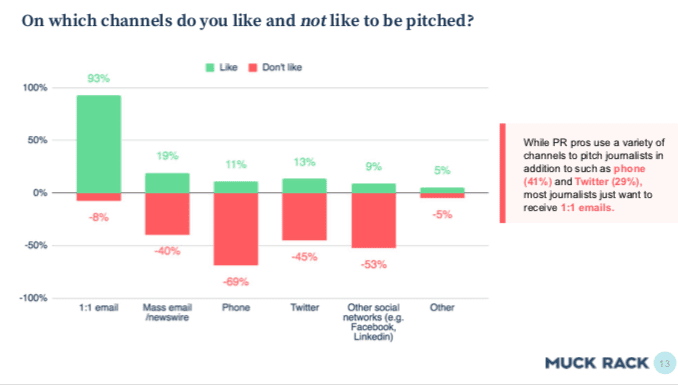 Follow Nicole: @BuffaloGal