Like Brands Governments Test Content, Frequency, Fun on Social
April 4, 2016
Some 90% of governments have an official Facebook presence, according to a Burson-Marsteller study. As the chart below shows, President Barack Obama is the most popular world leader on Facebook, with 46 million likes on his campaign page. Indian Prime Minister Narendra Modi is next with nearly 32 million fans on his personal page and 10.1 million followers on his institutional PMO India page, which is in third position. Turkey's prime minister is next, followed by Indonesia's leader Joko Widodo and Egypt's president.
As we've seen often with brands, having a presence on social media is only the start. To be successful, governments must monitor, engage and interact with audiences regularly, post relevant content, be transparent and humanize the brand periodically. Posting photos and videos also is helpful.
As you might expect, government Facebook use varies. While some merely broadcast the daily activity of their leaders, others engage with citizens, replying to comments and encouraging a free flow of visitor posts.
And frequency, always a question for brands, poses a similar conundrum for governments. The Dominican Republic's president posts 27 per day; Botswana averages 20 posts daily. Yet this fails to equate to greater engagement. By the way, the median average daily posting rate is one. Argentina's President Mauricio Macri is the most engaged leader, with a rate of almost 12%.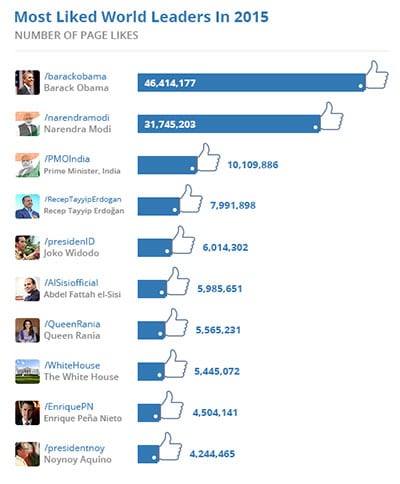 By: Seth Arenstein, PR News