Pizza Wars: Attack of the Papa John's Competitors
By: Samantha Wood
November 7, 2017
Papa John's CEO and founder John Schnatter told investors on Wednesday that the issue of NFL players kneeling during the national anthem was the reason behind declining sales. But some of its competitors—notably DiGiorno Pizza and Pizza Hut—refuted the claim, perhaps bolstering their own brands in the process.
Schnatter claimed that the anthem controversy has cost the company around $70 million, given its close ties to the league. Papa John's has been the "Official Pizza Sponsor" of the NFL since 2010, and has used NFL logos and trademarks in its advertising and marketing campaigns for years.
"We are totally disappointed that the NFL and its leadership did not resolve the ongoing situation to the satisfaction of all parties long ago," Schnatter said in a call with investors. "This should have been nipped in the bud a year and a half ago."
DiGiorno struck the opening salvo, using its Twitter account to criticize Papa John's in its signature snarky way.
Us: ??
Them: ??

— DiGiorno Pizza (@DiGiornoPizza) November 1, 2017
Better Pizza.
Better Sales.

— DiGiorno Pizza (@DiGiornoPizza) November 1, 2017
Update: ????????????????????????????????????????????????????????????????????????????????????????????????????????????????????????????????????

— DiGiorno Pizza (@DiGiornoPizza) November 2, 2017
The page even briefly changed its Twitter bio to make fun of Papa John's tagline, which has long been "Better Ingredients. Better Pizza." DiGiorno's new bio? "Better Pizza. Better Sales. It's DiGiorno."
Less than 24 hours later, the brand changed its bio again and it now reads: "It's Not Delivery. It's DiGiorno. And It's Kinda Petty. House Rules: bit.ly/26hdQA8" including a link to parent company Nestlé's social media rules.
In its engagement with other Twitter users, DiGiorno had no mercy on Papa John's.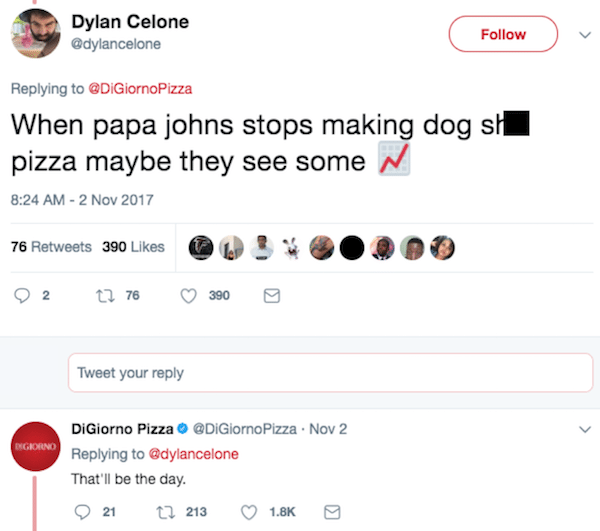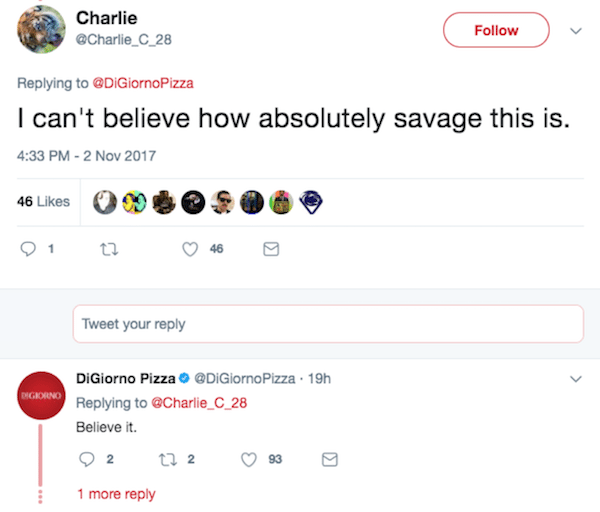 DiGiorno cleverly used Papa John's coverage to its advantage. But the brand's flippant voice on social media has led to trouble in the past. The now-infamous 2014 tweet using #WhyIStayed has become a textbook (and cringeworthy) example of why brands need to research a hashtag before using it. (A spokesperson for DiGiorno was unavailable for comment.)
Pizza Hut's response was decidedly more muted but still direct. Greg Creed, CEO of Yum! Brands, which owns Pizza Hut, said on a call with investors that the anthem controversy hasn't had an affect on the company's sales at all. In fact, Pizza Hut posted its fifth consecutive quarter of same-store sales growth, exceeding forecasts.
"We're not seeing any impact from any of that on our business," Creed said. And that one line was enough to thrust Pizza Hut into the ongoing coverage, shining a positive light on its brand.
Will this pizza feud become another example of one brand's trash becoming another brand's cash?
Stay tuned.
Connect with Samantha: @samantha_c_wood