Content Without Borders: PopSci's Top Tips for Repurposing on Social
By: Sophie Maerowitz
July 11, 2019
In the halcyon days of social media, new features and platforms were reasons to celebrate, providing creative outlets and online laboratories for social marketers. These days social media professionals are asked to populate an overwhelming number of platforms with fresh content daily—and the accompanying rise in blood pressure is palpable.
The biggest debate around overseeing multiple social channels seems to be whether it's acceptable to use the same content on different platforms. Responses vary from "audiences will tune out if they catch you using duplicated content" to "it's fine, so long as each channel has a different user base." A few more factors need to be considered: the resources (especially staff hours) an organization can reasonably devote to content production and distribution strategy, which platforms your brand posts to regularly and how much reformatting is required.
All of these considerations require the attention of an efficient social team that is up-to-date on platform features. "That knowledge base should inform not only which platforms are right for your brand, but how to plan content that moves freely among them," says Ryan Perry, engagement editor at Popular Science (PopSci for short). Here are some of his top recommendations.
Ask: Which platforms "borrow" features?
Some platforms, Perry points out, automatically repurpose content for you, like Instagram Stories, which migrate to Facebook Stories by default. Because Facebook and Instagram are part of the same social media empire, the vertical aspect ratio is identical, which means there's no need to rejigger the video or image format. On the other hand, if your brand's Instagram settings are such that also post to the Facebook feed, you'll need to re- or de-tag any tagged accounts and edit the captions on Facebook (they'll show up with the "@" symbol).
Interactive polls win engagement, no matter the channel
"Polls are a common tool used to build easy engagement. Most outlets are keen to use obvious polling features offered by Facebook and Twitter. But a secondary polling push into Instagram Stories, Facebook Stories, and the YouTube 'Community' tab allows for referral traffic on five platforms from a single idea and effective use of your precious time," says Perry.
The inherent call-to-action in instant polls ("what do you think?") makes them an engagement magnet. As seen in the screen-captures below, PopSci's polls draw thousands of participants. Polls are a low time-investment to gauge interest for a future article, blog post or podcast on a given topic. At the same time, they open a natural door to linking back to related content, as in the progression of PopSci's Instagram Story below. PopSci ran the same poll across its other channels, with differing results. The variance in response and the number of those who responded hint at the different audiences tuning in on each channel.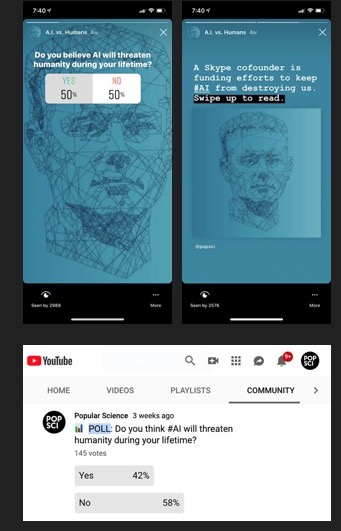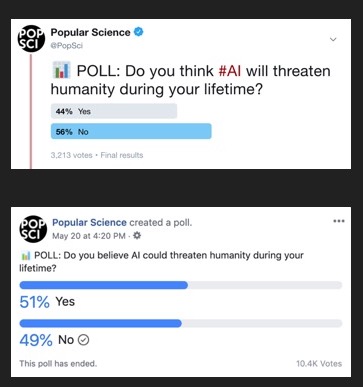 Keep aspect ratio front of mind
Ever see a Twitter photo of an executive with their head and legs cropped off? That's a symptom of a lack of aspect ratio quality control. While Instagram and Facebook Stories have a vertical format (9:16), Twitter's interface requires an aspect ratio of 1.91:1 (as of this writing) for in-feed posts. When capturing video for social, Perry's team is careful to take wide shots that can be used for horizontal video (YouTube), but that still work when cropped vertically (Instagram/Snapchat/Facebook Stories). In some cases (bottom right), a text or visual can offer a.