Ambassador
The Salvation Army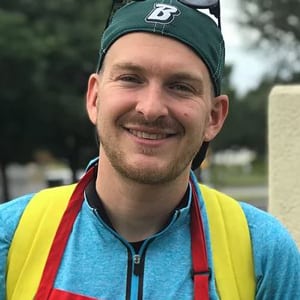 Using social media and video, Chris Strub took the Salvation Army's fight against poverty to 25 states and his nearly 40-day road trip (38 to be exact) resulted in over 1.2 million cross-channel impressions, more than 50,000 cross-channel video views and directly amassed over $6,100 for the Army.
Strub—as a national Red Kettle ambassador for The Salvation Army—embarked on a 38-day road trip, dubbed the #FightForGoodTour. In the process, he skillfully deployed social media and video to raise awareness about the Army's ongoing battle against poverty.
The effort received much media attention. The tour was featured in a four-part series on TODAY.com and The Huffington Post, picked up by local news outlets including CBS Philly, WAVE 3 News Louisville and ABC 12 WISN in Milwaukee, and finished with a live in-studio appearance on Mario Armstrong's "Never Settle Show" in Times Square.
Strub is also the chief executive officer for I Am Here, LLC, a social media consultation agency focused on meaningful, individualized, in-person visits with nonprofits and other businesses around the United States.