Senior Managing Director
FTI Consulting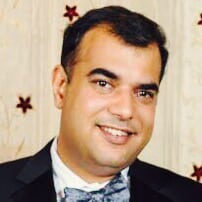 An industry leader in the TMT (Tech, Media and Telecom) sector, Nitkin Kumar has led the way over the last two years in social media results for his company, FTI Consulting.
Kumar brought in ~$5 to 7 million in consulting sales via social media influence and produced a ~$15m in new opportunity pipeline. He converted social media connections into a real-world, highly-active community of 300 tech and M&A (mergers and acquisitions) executives, and has a repertoire of more than 50 articles on disruptive tech and M&A to his name.
His piece "Anatomy of Disruption" has been adopted into a working process and framework by a number of Silicon Valley companies, which has helped him to be recognized as one of the most influential consultants in the M&A industry.
Kumar was selected by the Institute of Management Consultants to be its Special Lead Delegate representing them to the United Nations.