Vice President of Social Media
OneUnited Bank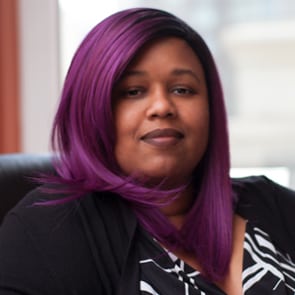 Rochelle Hinds is the vice president of social media for OneUnited Bank, which has the distinction of being both the largest black-owned bank in America and the first black-owned internet bank.
Hinds was a big contributor to OneUnited Bank's efforts as part of the #BankBlack movement, which encouraged African Americans to transfer their money to black-owned banks in a demonstration of economic and political force within the black community.
Within 48 hours of the movement's launch, OneUnited went from opening 50 accounts per day to 1,000; web traffic increased by 10 times and social media erupted. Hinds had recently overhauled the bank's website, social media graphics and messaging, meaning the bank was ready for the rush of attention.
Led by Hinds' efforts on numerous social media campaigns, OneUnited Bank became the uncontested leader of the #BankBlack movement, which has benefited OneUnited as well as the 21 other black-owned banks in the US. Approximately $70 million has been transferred to black-owned banks since the effort started.
As a colleague explained, Hinds' "social media instincts are incredible. She follows her experienced marketing gut then backs it up with data, and a high level of 'social media intelligence.' She has a great understanding of how the pieces fit so intricately together for an effective social media campaign. But if she's wrong, she can pivot and lean into the winning idea to make it shine."