Social Media Specialist
S&P Global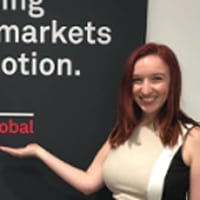 It's been an eventful year for Tracy Carlin. She was hired by S&P Global under 12 months ago, and in that short time, she has reshaped the way her company undertakes, contemplates and employs social media to safeguard and amplify S&P's world-renowned brand.
In her brief tenure with S&P Global, Carlin has guided successful and quantifiable engagements at high-level conferences and events. This includes many on the Hill as well as introducing S&P Global's first ever account on Instagram.
Carlin also supported the introduction of the company's first WeChat presence in China, and propelled measurable outcomes around crucial policy engagements, important organizational announcements and crucial public relations tasks.
She has also provided ways of solving difficult tasks that have changed the way S&P tackles and contemplates public perception. She has shaken up the way S&P actively oversees and evaluates its success on social media.
"Serving a global company's evolving and growing social media needs as a team of one, Tracy personifies sound judgment, integrity and accountability in a virtual world that tends to lose its way with the exact opposite," stated a collaborator of Carlin's. "The exciting, innovative impact that she is making now to our organization and the growing influence that she is having amongst her many peers is exciting to watch and just the beginning of great things to come. "