How the 'Slap Rihanna' Ad Slipped Through the Cracks on Snapchat
By: Hayley Jennings
March 17, 2018
It's been a bad week for Snapchat.
A Snapchat ad promoting the game Would You Rather?! asked players if they would rather "slap Rihanna or punch Chris Brown." Rihanna was not amused by this reference to the 2009 violent assault by ex-boyfriend Chris Brown.
How did this disturbing ad make it onto the app in the first place?
Here's how Snap Inc., via email, described its ad approval process to us: The majority of video advertising on Snapchat is purchased through a self-serve advertising platform for third-party brands, all of which is subject to review—sometimes human review, sometimes automated review. All advertising must conform to the platform's policies, which forbid, among other things, "shocking, sensational or disrespectful content."  Almost every ad on Snapchat goes through human review, save for a small list of vetted advertisers who receive approval through automation.
So, the Rihanna ad was reviewed by a human and approved in error, according to Snap Inc. All of which begs the question: Who is the human who thought this was a good idea? Snap's review process could probably use some tweaks, especially if the company is hoping to stem the flow of users to Instagram and its competing Stories platform.
The ad first garnered attention when activist Royce Mann condemned it on Twitter.
Is it just me, or is this ad that popped up on my Snapchat extremely tone deaf? Like what were they thinking with this? pic.twitter.com/7kP9RHcgNG

— Royce Mann (@TheRoyceMann) March 12, 2018
Snapchat then released a statement apologizing and announcing that the ad and the advertiser had been removed. The statement was not enough for Rihanna, who called out Snapchat on her Instagram story on March 15.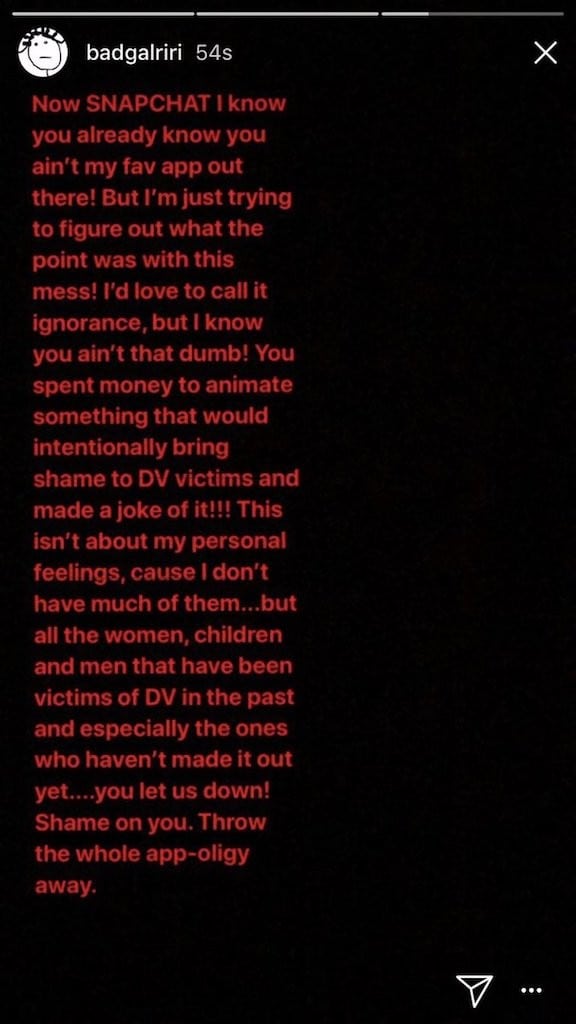 By Thursday evening, Snapchat's stock price had fallen by more than 4%, with many Twitter users, such as rapper Joe Budden, interpreting Rihanna's response as a call to uninstall Snapchat. And with Instagram as its direct competitor, it's likely those users will begin to solely rely on Instagram Stories.
Rihanna said delete Snapchat so guess what I'm doing!!! #Navy

— Joe Budden (@JoeBudden) March 15, 2018
In another apology issued after Rihanna's Instagram post, a Snap Inc. spokesperson said, "This advertisement is disgusting and never should have appeared on our service. We are so sorry we made the terrible mistake of allowing it through our review process. We are investigating how that happened so that we can make sure it never happens again."
If Snapchat wants to avoid losing any more of its users to Instagram, it's going to need more humans, or different humans, reviewing its ads.
Follow Hayley: @that_hayley