SSU 2018 Speakers Offered Unconventional Yet Wise Advice
By: Seth Arenstein
May 10, 2018
It's rare to hear speakers advise attendees at a trade event to tread lightly, take it easy and slow down, but the Social Shake-Up is known for subverting assumptions. Accordingly, some of the takeaways from the afternoon general session might have seemed counterintuitive to the hard-charging, go-for-broke counsel attendees often hear during trade conferences and shows. Upon reflection, though, the takeaways make sense.
Toni Clayton-Hine, Xerox's SVP/CMO, discussed a recent campaign to change perception of the brand that included the unorthodox step of keeping its name "in the background" for weeks.
Recipients of emails for a campaign called Set The Page Free were treated to bite-sized excerpts from a then-forthcoming book about the new state of work called "Speaking of Work," Clayton-Hine said.
The book's writers include 14 top-flight authors, such as Joyce Carol Oates, Roxane Gay, Jonathan Safran Foer, Gary Shteyngart and Lee Child. Their words were the main message at that point. "It was a while before [recipients] even knew about [the involvement of] Xerox," Clayton-Hine said. In fact, recipients received 12 of these emails before Xerox was mentioned. She admitted, though, that keeping Xerox in the background during the early stages of the effort was "the biggest hurdle for me."
In addition, since the campaign was a co-production between Xerox and the 92nd Street Y, "there were a lot of things that you couldn't control." For example, some of the authors allowed Xerox to promote their inclusion in the book online, while others did not.
Content First Social Second
Eventually the company deployed social media, but it was the content that enabled the social.
Once the campaign matured, Xerox revealed that its technology, software and applications allowed the authors to collaborate on the project. In addition, the book was marketed globally to 20 countries and was translated to French and Spanish, in part using Xerox technology.
Clayton-Hines had pushed to "sell" this unusual concept "internally very hard" to sales, product marketing and the CEO to make sure it received support. Luckily, The campaign succeeded and Xerox's scores on innovation, leadership and vision all rose more than expected.
'What Can I Offer?'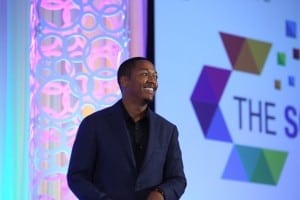 Co-speaker and social entrepreneur Nathan Pirtle, who rose from gang member and criminal at a young age to successful CEO, also proffered the sort of advice not often heard at trade events. Instead of high-powered selling, Pirtle concentrates on "what I can offer people…love, inspiration and motivation." This advice stems from his insistence that human-to-human interaction is key to business success.
"You get all your information from people…talk to them…even if they don't look like you," he said. He added, "Try to learn something new every day…and get rid of the idea that you know everything." Pirtle downplays somewhat the power of analytics, preferring human contact—though he advised "use the analytics you have," including free tools.
Know People First, Send Content Later
Pirtle provided more unconventional advice that doesn't seem so once you know a bit about him: "I like to know people before I start throwing content in their face."
He encouraged everyone to "make your own fortune" while you're working for someone else. Work on it "a little bit every day…lay one brick each day…it's not as hard or expensive as you think…what I do is not hard."
Seth Arenstein is editor of PR News. Follow him: @skarenstein