Stop Making This Twitter Mistake
By: Carmen Collins, Senior Social Media & Talent Brand Manager, Cisco
March 18, 2019
Lately, I have this soapbox I like to stand on. Here's what I preach: Social media managers must remember that they are social media consumers first. Before creating content, walk 280 characters in your users' Twitter shoes. This will help you craft posts that drive results.
My question to you is: When you are using Twitter for your personal enjoyment (or not), how often are you on your mobile device?
I've said it before and I'll say it again: The only people using Twitter on their desktop are social media managers. No one else is doing that. 80 to 90 percent of users access Twitter on their phone. Don't believe me or my statistics? Go into ads.twitter.com and look at your demographics under "mobile footprint."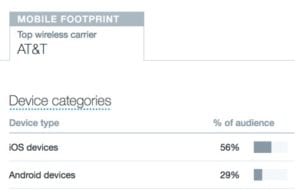 I would argue that these kinds of numbers mean that you should skip right over producing mobile-friendly content to designing mobile-first.
But what does being mobile-first mean in practice?
Let's again assume the identity of our followers. We're walking around with our phone, thumb-scrolling, looking for "thumb-stopping" moments. We're out and about, so we're more likely to watch videos with no sound. Photos are processed by our brains faster, so we'll look at the image first, and then make the decision whether or not to read the text. We want to consume content on-the-go, so we're not going to take the time to click on an image and view it if it doesn't fit into Twitter's aspect ratio.
As you're scrolling, you see images like this (actual screenshot from my phone, with personal information redacted:)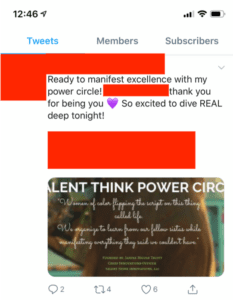 Raise your hand if you can read anything on that graphic without the use of some kind of superpower.
Staaaaaaaahhhhp doing this, for the love of eyeballs everywhere. How can anyone have an emotional connection with this? Would this make you stop your thumb scroll?
Staaaaaaaahhhhp It Tip 1: Minimize text on Twitter graphics to maximize engagement
The other thing that I see a lot on Twitter is the posting of vertical photos. Vertical storytelling is considered the best standard in  mobile-first content—with the exception of Twitter.
I'm going to pick on Patton Oswalt here, because if he were ever to read this I know he'd laugh about it. Plus, when you're a funny celebrity with a nerd following (including yours truly), you get engagement no matter what you post. But this is what happens when you post a vertical photo on Twitter.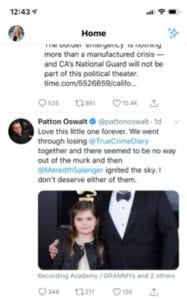 Off with their heads! Eek, the headless horseman! (You get the point.)
You can't control the crop of your photo on Twitter unless you crop the photo in Twitter natively.
Staaaaaaaahhhhp doing this. We want to see your face!
Staaaaaaaahhhhp It Tip #2 – Crop your photo first to fit Twitter's image size.
Public service announcement: Up until a few months ago, the Twitter crop size was a 2:1 ratio, or 1024 x 512 pixels. Silently, the Twitter gods changed the ratio to 16:9, with a minimum of 600 x 335 pixels. (This caught my team off-guard recently, and now we're working to ensure a new crop system for our @WeAreCisco tweets.)
Remember, the whole point of social media is to make a connection, and you can't make a connection with unreadable text or weirdly cropped images. Put in the extra time to customize for Twitter, and you'll see a bump in your metrics.
Follow Carmen: @CShirkeyCollins