Why You Need Nano-Influencers Now
By: Danica Kombol, CEO, Everywhere Agency
February 4, 2019
Recent attention around nano-influence has marketers acting like it's the newest thing since sliced bread.
Spoiler alert: There's nothing really new about nano-influencers—except for the fact that we now have a name for them. Nano-influencers are, quite simply, everyday digital citizens. Consider them the little sister or brother to the micro-influencer. What is new is that brands are realizing there is power in those smaller voices, especially when it comes to telling authentic stories about your product, service or experience.
What's the big difference between nano, micro and macro? Frankly, it comes down to their following. After all, micro-influencers are also classified as everyday people who just happen to have a following on social media (typically between 10,000 and 50,000 followers). Nano-influencers have fewer followers; somewhere between 2,000 and 10,000.
This begs the question: Why bother with a bunch of nano-influencers if you can get one mega-influencer to post for you and achieve your goals in one fell swoop?
Sometimes that's easier said than done, thanks to a counterintuitive, algorithm-induced anomaly: the larger the following, the lower the engagement. In influencer marketing, it's all about engagement—you want the audience to engage in the influencer's content and feel compelled to take some sort of action. Nano-influencers may have a smaller following, but that following is typically much more engaged than a micro-influencer's, which can pack a powerful punch for brands. Niche brands, in particular, may find greater success in sourcing a series of smaller nano-influencers who align directly with their target audience.
These little nano-influencers have huge value for a few other reasons. You know all the hullaballoo you've been hearing around fake influencers and their fake followers? Well, when you're talking fewer than 10,000 followers, you don't have to worry as much about fakes. Plus, the cost of working with nano-influencers is much lower. Many nano-influencers will post in exchange for a product, whereas bigger influencers will want to get paid. (By the way, just because you're giving away a product, rather than writing a check, does not mean you get to skirt FTC guidelines. The word #ad still has to appear in any social share you're receiving for pay or barter.)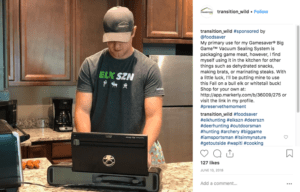 Our client FoodSaver® had a specific audience to reach when they marketed GameSaver®, a line of food preservation systems specifically designed for hunters and anglers. In order to increase sales of two of their vacuum sealers, while positioning them as essential tools for preserving game meat and fish, Everywhere Agency launched a campaign that leveraged hunting and fishing influencers with good track records of creating engaging content. Two of those influencers included Josh Kirchner of Dialed In Hunter and Adam Parr of Transition Wild. Both created content perfectly aligned with the brand and hyper-targeted to their followers, who are just as passionate about hunting game as they are.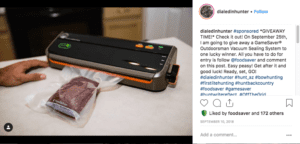 Still, sourcing nano-influencers involves just as much work, if not more, than hunting for micro-influencers. Many nano-influencers may be new to working with brands and clueless as to how to go about it. That learning curve may take some serious handholding on your end.
So the next time you have a big idea, why not go small? Explore the tiny but mighty world of nano-influencers for thoughtful, powerful messages that reach the right people fast.
Danica will be sharing insights and recommendations on the latest in influencer marketing at Social Shake-Up 2019, May 6-8 in Atlanta. Tickets are going fast, so get yours before they sell out.