How to Win More Budget for Social From Skeptical Senior Leaders
By: Allen Plummer, Vanguard
June 28, 2017
Social media is no longer in its infancy. Sure, we might be distracted by Snapchat Spectacles or some other shiny object of the moment, but social media is no longer the wild West it once was.
In fact, we've reached a certain level of maturity: We're teenagers, in my opinion—we know enough to be dangerous but think we know everything. Don't believe me? Here are some questions that mature social media marketers should be able to answer:
What percentage of your overall marketing budget is spent on social media?
What percentage of your website traffic or sales is driven by your social media efforts?
How does your social media budget compare to the rest of your broader advertising budget?
What impact does your social media efforts have on business results? How would your CMO answer that question?
What's the ROI of your social media efforts?
You see where I'm going with this. Many social media teams lament that they don't have enough budget, headcount or support to have a real impact on the business. Yet it's often these same teams that fail to connect the dots for their leaders.
A few weeks ago, I wrote that your senior leaders don't care about your social media metrics. What they do care about is ROI, impact on business results and, just as important, where social media fits in the broader marketing strategy and budget.
My team and I faced the same hurdles a few years ago. Here are the four steps we took to get more headcount and budget:
Understand Your Budget
Businesses exist to make money, not to get shares, retweets or likes. Marketing can easily been seen as overhead, a necessary cost to help drive sales.
As such, senior marketing leaders are expected to spend their budget in a strategic way. It might be about maximizing the return on their spend, generating a certain level of sales or defending their market position against competitors. Whatever the expectation, your leaders are looking to spend their budget in an efficient way that supports those goals.
From there, it's about understanding how social media is perceived and supported within your marketing organization. What percentage of the budget does social get? Is it less than in-person events or email marketing?
Know where you fit in, and be prepared to influence that perception and budget if you think social is undervalued.
Compete for Dollars Through ROI
ROI is a tough nut to crack, especially if you struggle to tie your social efforts to revenue. However, my team was able to illustrate our impact by using a language our executives understand—advertising.
Our organization places a sizable value on bang for the buck. To that end, our executives have always taken a keen interest in our advertising budgets, which means they understand those KPIs. My team and I were able to leverage that knowledge by explaining the value of social media in comparable terms.
We knew how much we spend on advertising each year and how many impressions and clicks that gets us. In advertising terms, these metrics are called cost-per-impression (CPI) and cost-per-click (CPC). We simply applied those per-unit metrics to our social media impressions and clicks. Multiply your CPC by number of social media clicks (or your CPI by your number of social media impressions) and you'll get an estimated value of social media in advertising dollars.
Is it true ROI? No, but it's a solid start. Let's say you spend $30 million each year on advertising and these calculations show that your social media efforts are the equivalent of an additional $6 million of advertising spend. Now, if you say to your CMO that your organic social media efforts get your organization an additional 20% reach on top of your advertising budget, that will get their attention. [Note: dollars and percentages are for illustration only.]
For us, it was a way to start the conversation around social media budget in a way that put a tangible dollar amount to something they already understood.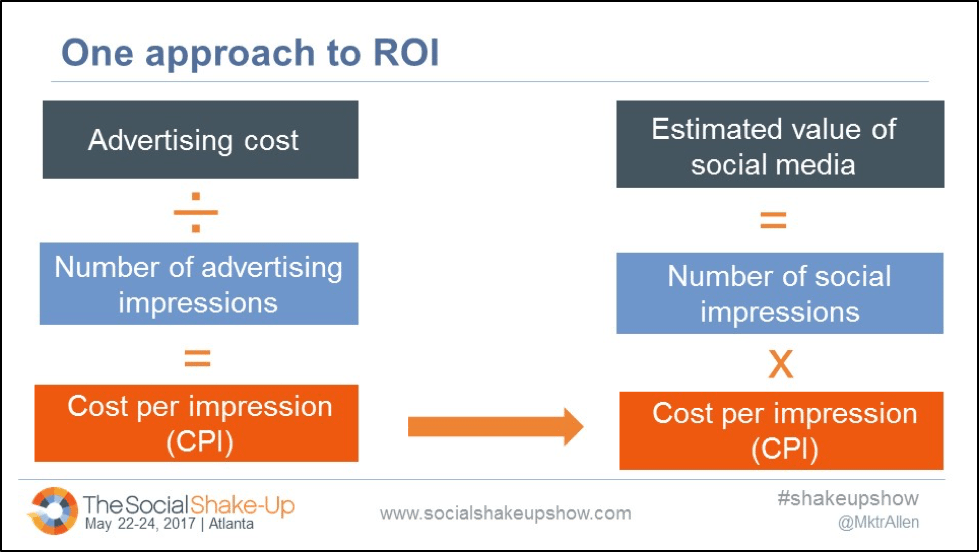 Test & Learn
Once we shared those calculations with our leaders, we were given a small budget for experimentation around sponsored content. Our team took the opportunity with a test-and-learn approach, and set the expectation that we'd test a few hypotheses and share the results afterward (with the assumption that some successful metrics would lead to an increased budget).
Given that we're a B2B company, we focused on LinkedIn and tested various targeting approaches, as well as a few different types of content to see what performed well.
---
Did you miss out on the 2017 Social Shake-Up? Well, chase away that FOMO by registering for the 2018 Social Shake-Up today.
---
Measure Success & Show Integration
After several months, our team was able to go back to senior leadership with some great insights around who we could successfully target and how the content performed versus other types of advertising. We also got a sense of what kinds of content performed well on the channel.
The learnings were a great step forward and led to a sizable increase in social media spend. It may sound like a lot of work, but our team didn't do it all at once. Likewise, the support, budget and buy-in didn't happen overnight either. It took time, effort and some real maturing to earn a seat at the larger marketing table.
I guess we're teenagers, after all.
Allen Plummer has spent more than 15 years strategically developing marketing and media for the financial services industry with an eye to the future. He's spent the past decade at Vanguard, where he serves as a content marketing & social media strategist. You can find him on LinkedIn or connect with him on Twitter at @MktrAllen. He also has a podcast about creativity, Head, Heart & Hustle, which you can find via iTunes.