A Guide to Using Influencer Graphs for ROI
By: Sophie Maerowitz
July 10, 2019
With the advent of micro- and nano-influencers, we've (thankfully) moved away from an era when brands required six-figure budgets for every influencer post. Still, planning an influencer campaign requires time, some budget and the involvement of stakeholders—lawyers to draw up the contract and double-check that FTC guidelines are followed, for instance—which means social marketers should be ever-ready to prove ROI on their influencer efforts.
PR software company Cision has released a handy guide for mapping out influencer program objectives and a system for pinpointing the right influencers for your brand, using what the company calls an "influencer graph." Interested social media marketers can download the full guide here; below, some background insights from the team that authored it.
Influencer Graphs, Defined
An influencer graph is a complete mapping between an influencer, their content and the audience that consumes it.
To kick off the process, get your hands on as much customer data as possible. Request customer profile data from the people in your organization who already have it (likely a product marketer if you're at a B2B or a CRM manager if B2C). Without a clear understanding of who your desired audience is, you won't be able to accurately determine which influencers might reach them.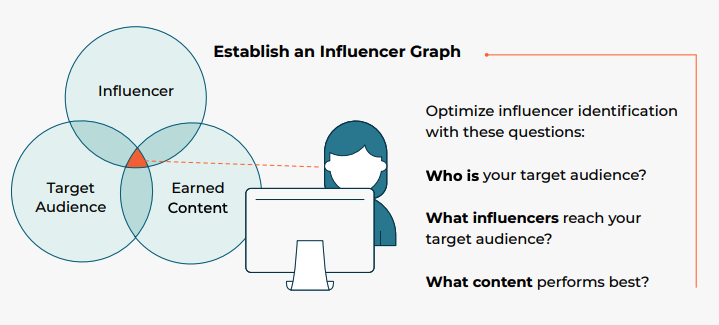 A Crash Course in Vetting Influencers by Social Channel
Twitter: This is is the place you definitely need to vet any influencer you're working with. Search deep through the tweet archives to be sure they haven't posted anything in the past that will get them—and consequently, you—in trouble. If you don't, one of your competitors or a competitor of the influencer will do so for you.
Instagram: Compare potential Instagram influencers' overall follower number to how many likes and comments their recent posts have gotten. If someone has 9 million followers but only 33 likes on their posts, chances are those followers are mostly bots.
Facebook: Despite Facebook's algorithmic bias against brands, hope for social marketers still exists in Facebook's renewed emphasis on Groups. If you have a branded Group, it's likely it will still be weighted the same as any other kind of Group (they're opt-in, after all) and might soon exist in a prioritized tab—perhaps in a yet-to-be-realized Facebook redesign. Does a potential Facebook influencer have a highly engaged Group that jibes with your target audience? If so, then this is the place to concentrate your influencer efforts and resources.
Technological Requirements
You should have access to a communications platform with a media database and measurement functionality. A "smart" platform will score the most relevant influencers across both traditional and social media who overlap most with your target audience.
Optimal platforms offer machine-learning capabilities to analyze the influencers that generate content viewed by end-consumers with the attributes of your target audience. You would then match that list of influencers with desired behaviors. You might want to partner with your e-commerce or web team to discover which customers that read an online article also became a lead or purchased a product online.
Access Cision's full guide to building an influencer graph here.