How These 3 Brands Perfected Summer on Instagram
June 22, 2018
While the first official day of summer arrived this week, creators, marketers and advertising executives gathered together in the South of France  for the 2018 Cannes Lions International Festival of Creativity, a massive industry event that saw major announcements from several brands and social platforms, including Facebook and YouTube.
On Wednesday, June 20, Instagram got Cannes' attention with the announcement of IGTV. The new feature allows creators to record much longer vertical videos on the platform—up to 60 minutes in length—that will reside in a separate section of the app. What's more, the photo-sharing platform will be democratizing its definition of "creator" in the coming weeks by opening up the feature to everyone.  Though technically announced at the company's San Francisco office and simulcast at Cannes, the new feature made quite a wave upon the shores of the French Riviera.
Now that Instagram considers everyone to be a creator, we all can learn from the numerous ways that brands are crushing it with their photos and videos on the platform this summer. While brands aren't exactly pumping out the summer fun on IGTV just yet, here are three examples of brands that have perfectly captured summer elsewhere on the platform.
Kayak
Best known for aggregating low airfares, hotel prices, rental cars and cruises through its app, Kayak is in a unique position to offer data on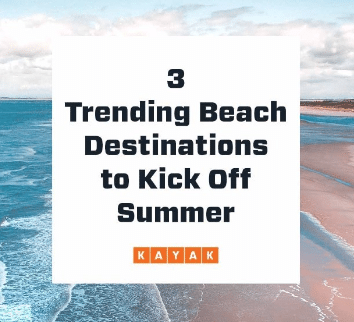 what summer travel destinations are trending. The brand has brilliantly demonstrated this using Instagram Stories by presenting its findings as a visual listicle. Beginning with an image bearing the headline, "3 Trending Beach Destinations to Kick Off Summer," this Instagram Story presents the most popular beachy places in descending order of how much each Kayak search has spiked. Each image is also a call to action, with "Swipe up to get here" written at the bottom.
The lesson here is twofold. First, your brand's data can be sexy if you share it properly. These destinations naturally make for visually arresting backgrounds to the numbers, but Kayak smartly capitalized on how many people engage with Instagram Stories versus reading traditional lists.
Second, and this is important—this particular Instagram story has all the ingredients of an effective editorial piece. It's providing a service, emphasizing timeliness, impact and proximity of summer (news values all) and structured in a way that ensures anyone who engages with the content will click through the whole thing. And if you're wondering, the most trending beach destinations are Curaçao, Maui and St. Lucia.
Brands hoping to emulate this strategy might do best to stay on Instagram Stories for now, as the broadcast focus of IGTV doesn't seem to feature the opportunity to upload stills or screenshots just yet.
Forever 21
Fast fashion retailer Forever 21 celebrated the first day of summer with a single Instagram post directing followers to its Instagram story. Once there, you can follow along as the brand's Instagram manager spends the day on Venice Beach learning how açaí bowls are made and hanging at the skate park and petting a cute dog, all while artfully promoting two new summer tops (item codes included in the post). It's a simple yet effective reminder that branded Stories are infinitely more digestible when they follow a narrative. Between the "how it's done" service component of the açaí bowls, the culture of the skateboarding and the cuteness of the dog, you might easily forget they're trying to sell you something.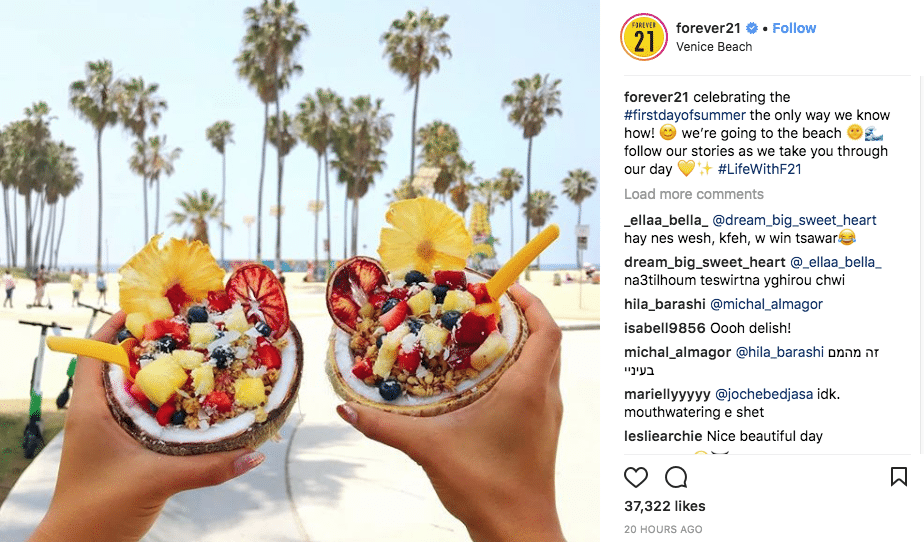 This type of Instagram Story should translate seamlessly to IGTV, as it already incorporates a first-person POV. With an extended length of broadcast, we expect to see many other brands record similar influencer-led "day in the life" stories for IGTV.
LG Electronics
The South Korean electronics manufacturer LG has used traditional uploads on its Instagram account to advertise a hip summertime brand activation. It features a series of videos showing its new washers and driers off at the annual Bonnaroo Music and Arts Festival, held each June in Tennessee. The video campaign shows various concertgoers at the festival's LG LaundROO lounge pop-up, cleaning off Bonnaroo's infamous, inescapable mud from their clothes while borrowing vintage duds in the interim.
In the realm of experiential marketing, this brand activation campaign was artfully site-specific. By positioning its laundry machines as the perfect solution to cleaning out the worst, mud-caked stains on Instagram, LG capitalized on the visual strengths of the platform and a unique problem of the festival, all while showing that it was made for the cool kids.
This campaign suggests a future opportunity on IGTV. As influencers and creators are increasingly tapped to broadcast their itineraries at major festivals, a longer potential broadcast time allows for further deepening of those narratives, including tours of the festival's food and beverage options (the more innovate, the more grammable) alongside the music. Let's face it, not every influencer is at a music festival for the music—but affording them the opportunity to share their personalized stage lineups from festivals could allow for a cultural deepening of the content they share, positioning them as artistic tastemakers instead of just brand advocates.
Follow Justin: @Joffaloff