Study: Use of Internet & Social Platforms Plateau in 2018
By: Sophie Maerowitz
October 4, 2018
Have we finally reached a saturation point in social media and internet use? A recent analysis of 2018 Pew Research Center data suggests so.
According to Pew's latest study, which also incorporates trend data that covers a span of over two decades of internet—and later, social media use—the exponential growth of our digital connectivity has slowed.
Between 2015 and 2017, for instance, those with broadband internet connection have grown only two percentage points. And as users increasingly compute from smartphones and tablets, desktop use has dipped from 78 percent of U.S. adults in 2016 to 73 percent today.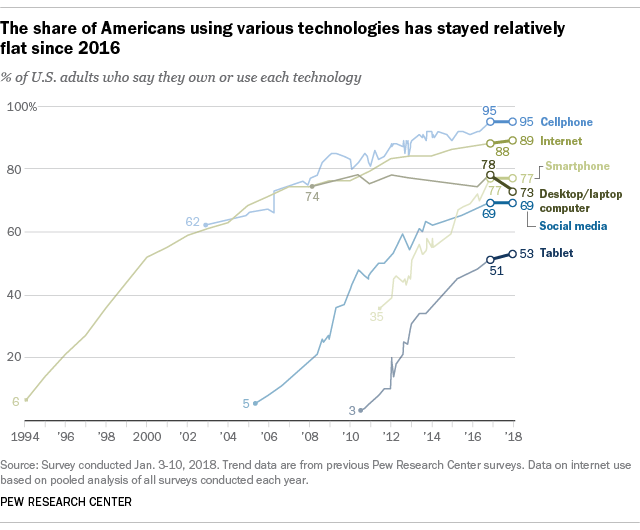 Unless you're working for a laptop manufacturer or as a head of growth at a broadband internet provider, though, the study actually points to some good news for social marketers: more people are online, meaning that your social media messaging will reach a broader audience. Nine out of 10 adults reported having an online connection or owning a cell phone.
Meanwhile, the number of users who access the internet solely from a smartphone has grown from 12 percent to 20 percent over the last two years. That means brands who were early adopters of a mobile-first approach to their website and online properties have an advantage.
Barriers to internet connectivity and social media use still exist, though, especially for Americans 65-and-older and those without financial means to pay for the internet. Six in 10 adults living in rural areas report lack of high-speed internet access as a barrier to getting online.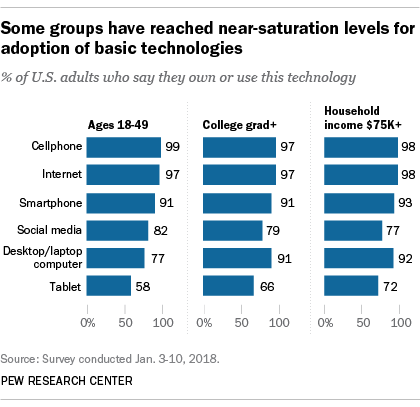 While the overall number of Americans using social media has stayed at a constant 69 percent since 2016, one platform has shown significant growth, according to another recent Pew study: Instagram, which has grown from 28 percent of users in 2016 to 35 percent this year.
Many social marketers have shifted their efforts from Facebook to Instagram as a result of the latter platform's growth, but given the overall trend in user saturation of social platforms, most users will continue to face the challenge of standing out amid the increasing amount of noise on the platform. (But who among us in the digital storytelling world doesn't love a challenge?)
Follow Sophie: @SophieMaerowitz